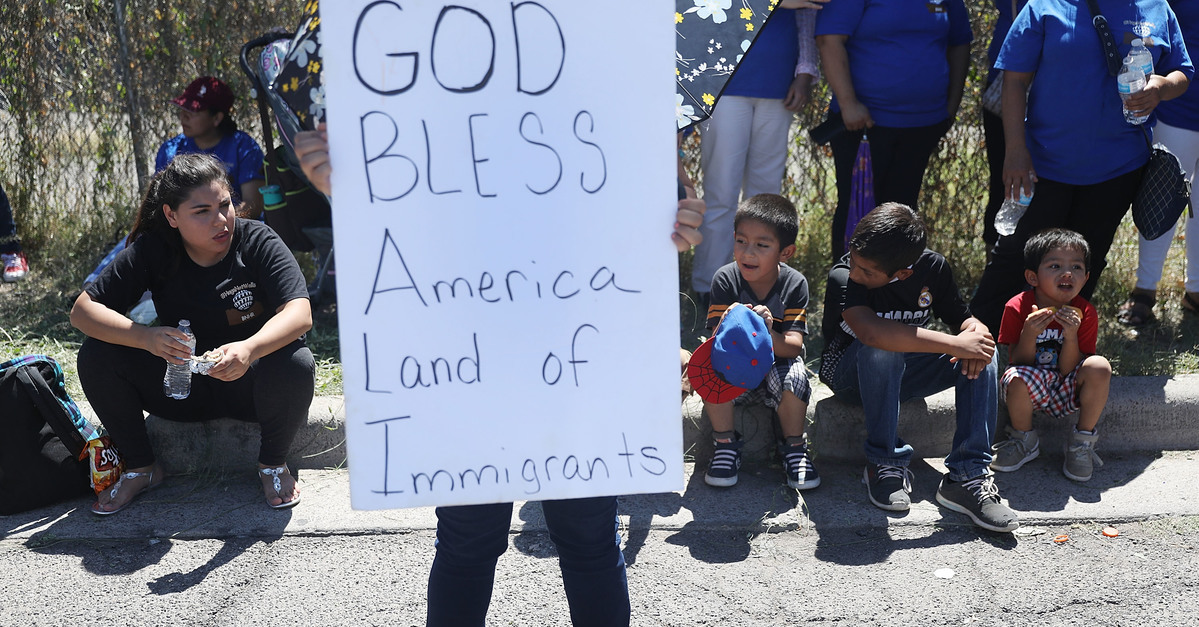 The White House did not provide guidance to federal immigration agencies when President Donald Trump's administration enacted their controversial "zero tolerance" policy at the U.S.-Mexico border earlier this year.
A Wednesday report from the nonpartisan Government Accountability Office (GAO) notes that agencies under the purview of the Department of Homeland Security were affected–and effectively blindsided–by the Trump administration's lack of planning before the family separation policy was announced.
Immigration and Customs Enforcement (ICE), U.S. Customs and Border Protection's Border Patrol division, and the Health and Human Services (HHS) Office of Refugee Resettlement (ORR) were caught unaware and left scrambling to craft their own policies on the fly–immediately after the shift in enforcement priorities was made on April 6.
The GAO report reads, in relevant part:
Officials told us that the agencies [impacted by the decision] did not take specific planning steps because they did not have advance notice. Officials we interviewed stated that they became aware of the April 2018 memo [announcing "zero tolerance"] when it was announced publicly.
Health and Human Services was hit particularly hard by the mad scramble for direction in the wake of President Trump's executive order.
The report explains that ORR was typically tasked with attending to teenagers and pre-teens who had been separated from their parents at a much lower rate under different, longstanding immigration directives. The new order forced the agency to deal with much younger children deemed "unaccompanied minors"–even though the reason they were unaccompanied was because the administration had taken them away from their adult family members.
"Shelters converted space previously used for classrooms for older children to be space for children under age 5," the report continues, "with one shelter adding cribs, smaller tables and chairs, and toys appropriate for younger children."
At least 103 children under the age of four were impacted by the administration's family separation policy, the GAO report determined.
To make matters worse, each agency tasked to implement the executive order had insufficient computer systems which frequently failed to flag children who had been separated from their parents. The report notes:
Prior to April 2018, DHS and HHS did not have a consistent way to indicate in their data systems children and parents separated at the border. In April and July 2018, U.S. Customs and Border Protection and ORR, respectively, updated their databases to allow them to indicate whether a child was separated. However, it is too soon to know the extent to which these changes, if fully implemented, will consistently indicate when children have been separated from their parents, or will help reunify families, if appropriate.
And sometimes the Department of Homeland Security simply failed to provide such information when custody of children switched hands agencies, according to ORR officials.
Under severe political pressure, President Trump ultimately scrapped the program's harshest aspects in June. A federal judge subsequently ordered families affected by the policy to be reunited and imposed several deadlines on the administration–which the administration missed time and time again.
As of September 10, 437 children still remained in ORR custody, according to the GAO. But the report's own numbers shouldn't be considered fully authoritative because "ORR was unable to provide updated data by our reporting deadline," a footnote explains.
Danielle Jefferis, a clinical fellow and the supervising attorney at the University of Denver Sturm College of Law Civil Rights Clinic, slammed the administration's unpreparedness documented in the report. Jefferis told Law&Crime:
The information disclosed in the GAO report amplifies the humanitarian crisis the Trump administration's 'zero tolerance' immigration policy has inflicted for months on thousands of men, women, and children in this country. We now know the administration had no plan to coordinate across responsible agencies and no mechanisms in place to minimize the immeasurable human impact of the policy. A government that just haphazardly tears families apart, cages people, and traumatizes children, let alone adults, is inhumane, full stop.
[image via Joe Raedle/Getty Images]
Follow Colin Kalmbacher on Twitter: @colinkalmbacher
Have a tip we should know? [email protected]