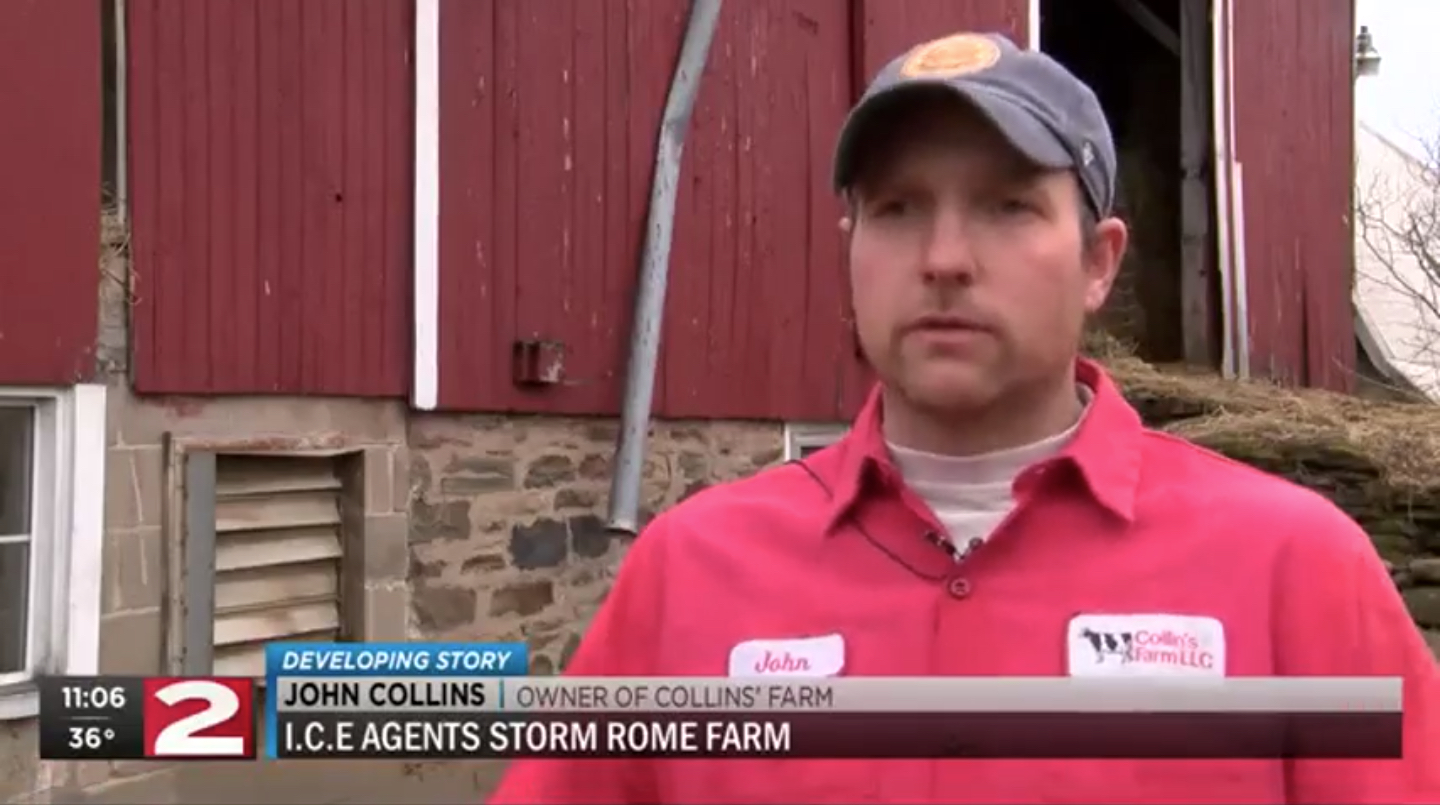 Agents with Immigration and Customs Enforcement (ICE) stand accused of beating and arresting an immigrant farm-worker, forcibly attacking his employer, and threatening the employer with arrest over his attempts to film the incident.
John Collins is a dairy farmer in upstate New York. Marcial de Leon Aguilar is an immigrant from Guatemala currently working as Collins' farmhand–a job he's held for the better part of year. Reports of Aguilar's exact immigration status are unclear, but Collins says Aguilar has proper work documentation and that he's been paying taxes.
Early Wednesday morning, a group of at least seven unidentified men–without badges or insignia on their bodies or cars–stormed Collins' farm and entered the milk house–a separate building on the property–without first providing evidence of a warrant to the property owner.
Collins rushed over and saw three of the men attacking Aguilar, pinning him up against a window, screaming at the man, according to the Utica Observer-Dispatch.
According to a report on Syracuse.com, Collins rushed in to help. He said, "I run and say, 'What the hell is going on in here?'"
Only then did the men identify themselves as ICE agents, Collins said, by briefly flashing a badge. Then, Collins asked the men for a warrant. They didn't have a warrant. Next, Collins asked the men for some other paperwork to justify their actions against Aguilar and presence on his farm. They didn't have anything like that either. Finally, Collins said he ordered the men to leave–and to leave Aguilar alone.
As Collins made his demands on the agents, two of Aguilar's children walked out to catch their morning school bus. Aguilar's two other children and his wife were not present due to a doctor's appointment, according to the Syracuse Immigrant and Refugee Defense Network. Virginia Aguilar and the couple's four children were recently caught crossing the border without documentation. She has applied for asylum due to ongoing violence in Guatemala, and is currently on an ankle monitor. She has been regularly meeting with ICE over her case.
The ICE agents reportedly grabbed Aguilar while his kids were going to the bus, handcuffed him, and dragged the man to their waiting vehicles on the other side of the road. Collins followed–reiterating his request for paperwork or a warrant, demanding to know where Aguilar was being taken and why. The agents reportedly couldn't or wouldn't give Collins an answer.
In further comments to Syrcause.com, Collins said, "I told them you can't come in here without a warrant. They can't take someone and throw them up against the wall because of the color of their skin."
The agents apparently didn't care much for that line of reasoning and continued to ignore the frustrated dairy farmer. Over Collins' protests, Aguilar was thrown into the back of a "dark Dodge Caravan," according to the Syracuse.com story.
When Collins attempted to film and photograph the abduction, he said, ICE agents attacked him, grabbed his phone, threw it into the road, handcuffed him and threatened to arrest him for interfering with a federal investigation.
Law&Crime reached out to various officials at ICE's New York field office for comment and clarification by phone and email, but no response was forthcoming at the time of publication.
[image via screengrab/WKTV]
Follow Colin Kalmbacher on Twitter: @colinkalmbacher
Have a tip we should know? [email protected]