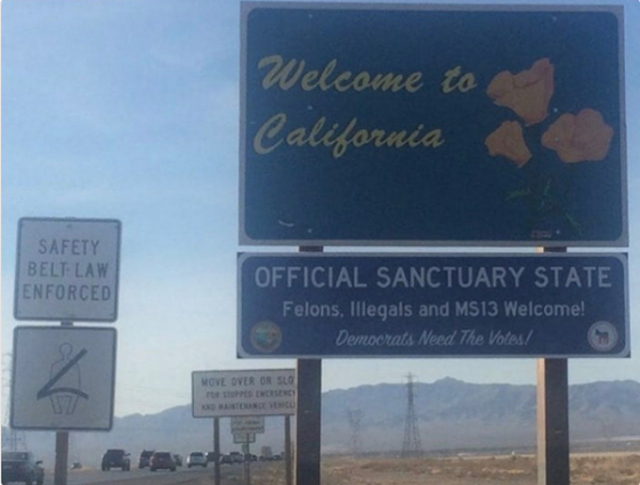 A series of prank highway signs have cropped up in California that sarcastically "Welcome" felons, undocumented immigrants and MS-13 gang members to the Golden State.
One recently placed sign, posted below an official "Welcome to California" sign, reads:
OFFICIAL SANCTUARY STATE
Felons, Illegals and MS13 Welcome!
Democrats Need The Votes!
The above-mentioned sign follows the posting of another sign that went up in April of last year. Placed below the marker for the small, extremely affluent city of Malibu, it reads:
OFFICIAL
SANCTUARY CITY
"Cheap Nannies and Gardeners Make Malibu Great!"
(Boyle Heights Not So Much)
Malibu officials condemned the original sign at the time, but it's placement apparently inspired a new slate of signs across the state; coinciding with California officially becoming a sanctuary state in 2018.
When California Governor Jerry Brown signed the sanctuary state law in October of last year, he said, "These are uncertain times for undocumented Californians and their families, and this bill strikes a balance that will protect public safety, while bringing a measure of comfort to those families who are now living in fear everyday."
The newfound designation clearly doesn't sit well with all of Brown's constituents.
The prank signs are likely meant as some sort of protest against the sunny state's newly-acquired sanctuary status, but the protests aren't too long for this world–state transit workers have already begun removing the tongue-in-cheek signage.
Mark Dinger, a spokesman with the California Department of Transportation ("Caltrans") said, "For safety reasons, Caltrans does not permit any unauthorized signs in the state right of way. If we haven't done so already, Caltrans crews will take steps to remove them."
[image via screengrab/Twitter]
Follow Colin Kalmbacher on Twitter: @colinkalmbacher
Have a tip we should know? [email protected]