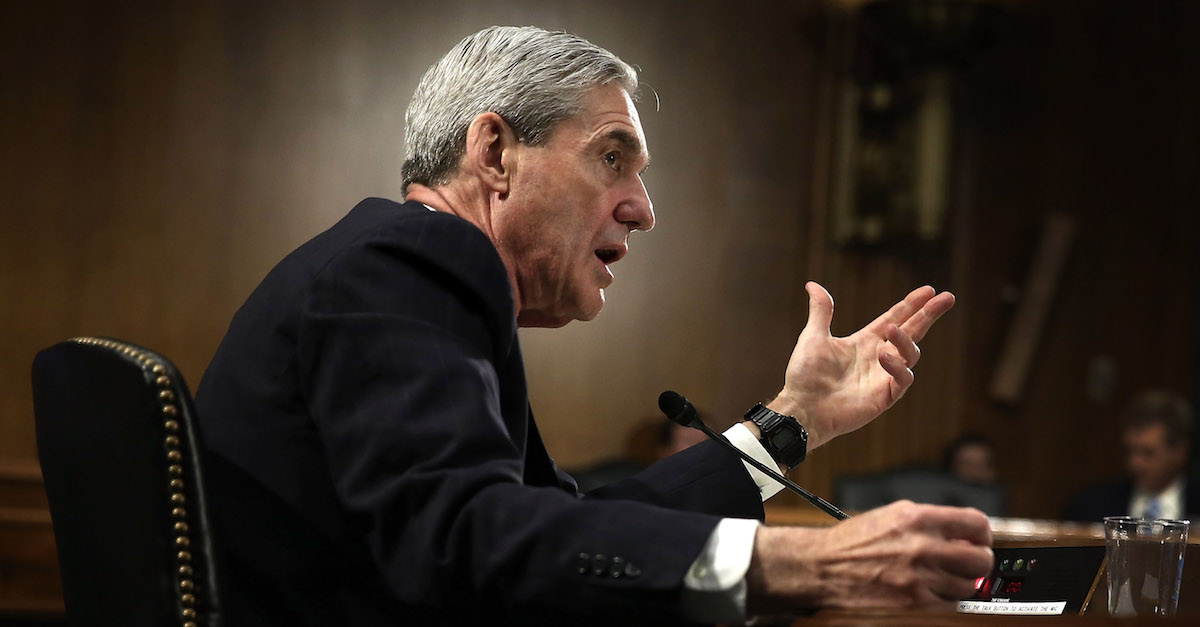 The legal counsel for accused Russian troll farm Concord Management and Consulting LLC has submitted another … unique filing in an attempt to compel special counsel Robert Mueller to cough up evidence against the defendant.
The Friday filing took issue once again with Mueller's request to speak with the judge in private about sensitive information that he argues should remain hidden from Concord's attorneys and excluded from discovery.
As Law&Crime previously reported, Concord has argued Mueller is unlawfully keeping "millions of pages of non-classified discovery" materials away from the defendant and attempting to "whisper" secrets to the court in ex parte (one party only) discussions. Concord stuck with the secrecy theme on Friday by opening with a quote from Lord Acton: "Everything secret degenerates, even the administration of justice; nothing is safe that does not show how it can bear discussion and publicity."
They claim that Mueller wants to continue on whispering said "secrets" to the Court and rubbished the idea that Mueller is to be trusted.
"The Special Counsel also states that if simply trusting him that everything is just peachy is not sufficient, he can tell more ex parte secrets to the Court to support his position," Concord said. From there, Concord inexplicably quoted Animal House.
"The Special Counsel's argument is reminiscent of Otter's famous line, 'Flounder, you can't spend your whole life worrying about your mistakes! You f**ked up . . . you trusted us. Hey, make the best of it,'" the filing continued.
Concord claims that they are completely in the dark as to whether "any investigators or staff working for the firewall counsel or the Special Counsel may have improperly transmitted the above-referenced information."
Firewall counsel, you may recall, was appointed in this case to review pre-trial evidence. This appointment of firewall counsel was ordered by Judge Dabney Friedrich due to concerns about "fugitive co-defendant" Yevgeniy Prigozhin getting access to sensitive information. Prigozhin is connected to Russian President Vladimir Putin. You may remember him as the man dubbed "Putin's chef."
Concord concluded by dismissing the idea that "secretly pretending to be someone you are not on the internet is a conspiracy against the United States."
"Surely the Special Counsel could answer that question without compromising any ongoing use of a grand jury to unilaterally conduct discovery in an already indicted case. But no, instead just a curiously sealed pleading containing not a single citation to any case authority proposing more ex parte secrets to the Court," Concord continued. "For a Special Counsel who claims that secretly pretending to be someone you are not on the internet is a conspiracy against the United States, one might think that all of his proposed secrets in prosecuting this matter are a conspiracy to deny the Defendant its right to a fair, open and public determination of its case."
Concord Management Quotes &… by on Scribd
[Image via Alex Wong/Getty Images]
Have a tip we should know? [email protected]