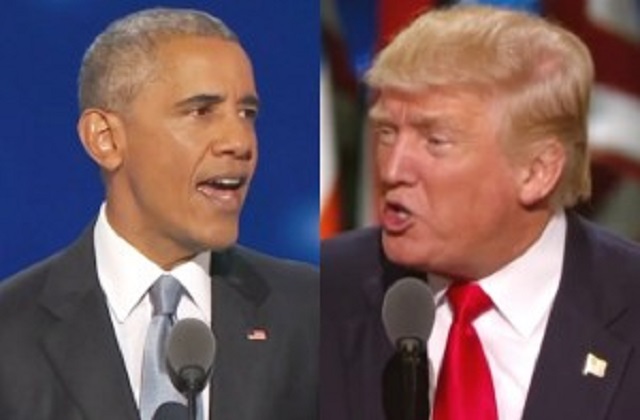 President Donald Trump's executive order restricting immigration, including refugees, has drawn widespread criticism, with many believing that the U.S. blocking persecuted people from entering the country is a dramatic shift in American policy. Trump has responded, claiming that his order is no different than an Obama administration move to restrict Iraqi movement into the U.S in 2011.
"My policy is similar to what President Obama did in 2011 when he banned visas for refugees from Iraq for six months," Trump said.
So is this accurate? Did President Obama do something similar to this? Well, sort of, but not really. The The Washington Post's Fact Checker column gave the claim two "Pinnochios," in determining the truth of this claim, and with good reason.
Trump's order bans all refugees from entering the country for 120 days, restricts all refugees from Syria indefinitely, and bars anyone from Iran, Iraq, Libya, Somalia, Sudan, Syria, or Yemen from entering the U.S. for 90 days. This is supposedly to give the U.S. time to figure out more stringent vetting processes for people entering the country. At first, this order was even being applied to people who were already granted visas who had arrived in the U.S., only to be told they weren't welcome. An ACLU lawsuit resulted in a stay of the order for people in that situation, but the order is still far-reaching.
According to an ABC News article from 2013, the Obama administration did indeed cease processing Iraqi refugees from entering the U.S. in 2011 for a six-month period, even people who had previously helped U.S. forces in Iraq. One person who applied for refugee status was killed while waiting to be processed. This happened after two Iraqi refugees in Kentucky were found to be al Qaeda terrorists and had allegedly killed U.S. soldiers while in Iraq. According to the report: "Several dozen suspected terrorist bombmakers, including some believed to have targeted American troops, may have mistakenly been allowed to move to the United States as war refugees."
This prompted the U.S. to improve their refugee screening process and make it much tougher.
So there are certainly similarities between Obama's refugee pause and Trump's. Both imposed limited bans on refugees, and both are theoretically meant to give the U.S. time to beef up security measures. That's pretty much where the similarities end.
But Obama's policy restricted refugees from one particular country after "refugees" from said country were discovered to be enemies of the U.S. Apparently that precipitated specific changes to U.S. policy in that country. Trump's order targets refugees from all over the world, indefinitely bans those from Syria, and blocks all movement to the U.S.– not just refugees — from seven Muslim countries.
As The Washington Post noted, Obama didn't make an announcement of his administration's practice. Trump's official declaration resulted in widespread panic and confusion, both in the U.S. and all over the globe. The fact that it did not take place as a direct reaction to a specific incident, unlike Obama's policy, and that it appears to be a general response to Islamic terror, has many fearing that U.S. foreign policy is being driven by racism or xenophobia. Defenders of the new policy argue that while it may have undesirable results, it's worth it to keep Americans safe.
So does Trump's executive order bear similarities to Obama's Iraqi refugee hold? Yes, some. But it does a whole lot more with a whole lot less specifics.
Have a tip we should know? [email protected]