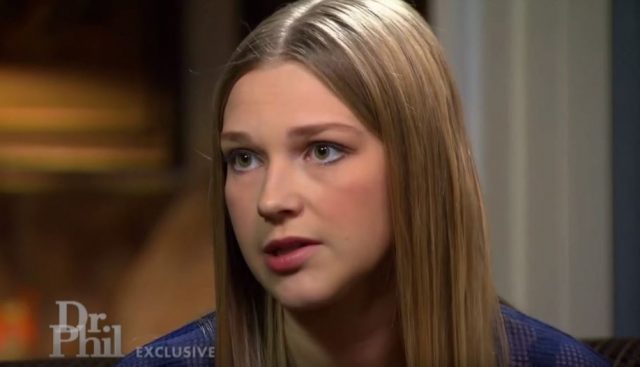 A Minnesota woman who was working with Sen. Al Franken on a new bill to help survivors of sexual abuse now wants someone else to sponsor it. Thursday's allegations against Franken from Leeann Tweeden have led Abby Honold to no longer want to associate with the Senator.
Honold was sexually assaulted on the University of Minnesota's campus in 2014. The perpetrator, Daniel Drill-Mellum, received a six-year jail sentence after pleading guilty to criminal sexual conduct in 2016, but the difficulty Honold had getting justice led to her working with Franken to impose changes on the justice system to help women in her situation.
Honold appeared on "Dr. Phil" earlier this year and told her story of how terrified she was at the time, how the male officers who handled her case were insulting and insensitive, and there were no women for her to talk to. The case also didn't go anywhere until police had two more victims claiming Drill-Mellum raped them. The detective who made the arrest said it wasn't until Christmas Eve 2015 that he apprehended him.
Franken offered to work with Honold to draft a Senate bill that would provide funds for training local law enforcement officials to properly interview trauma victims. Before the two met in person, he spoke highly of her the StarTribune, saying, "Her efforts have shed light on problems in how the system handles sexual assault cases, and I look forward to meeting with Abby personally and continuing to work with her and her team to bring about positive change."
They were supposed to present the bill to the Senate this month.
"He was one of the few people who listened to me and actually let me talk," Honold said to The Washington Post. "It felt really validating to be heard and to see something come of my experience that was positive for other people."
Honold, now 22, said she believes Tweeden's allegations, and now thinks it would be best to part ways with Franken. "It's really difficult when someone who has been a champion for you turns out to be the exact opposite for someone else," she said."
After hearing about the allegations, she called Franken's office to talk about finding a different sponsor for the bill. Franken's staff agreed that it was the best move. Honold hopes to get another Senator to join her soon, such as Franken's fellow Minnesota Senator, Amy Klobuchar.
The amazing women in Senator Franken's office have assured me that this is my legislation, and it belongs to every victim of sexual assault as well. I will keep moving forward with one of the incredible women working in the US Senate https://t.co/Oeibe5sNrk

— Abby Honold (@abbyhonold) November 16, 2017
"I would love if it went to Klobuchar's office," she told the Post. "It would be powerful to have this bill sponsored by a female legislator."
Honold is confident that she will find another sponsor in the Senate. In the meantime, she speaks to high school students and various organizations about her story, with the hope that situations like hers are handled differently in the future.
Have a tip we should know? [email protected]