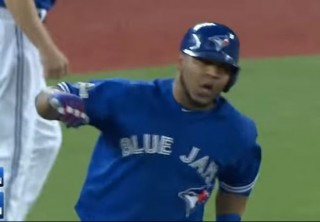 Toronto Blue Jays slugger Edwin Encarnacion is facing a lawsuit that claims he gave a woman sexually transmitted diseases. Ashley Lebron, who met Encarnacion in 2015 through a family connection, claims in a complaint that was filed on Monday, that she and the baseball star had unprotected sex three times in February of this year, and that afterwards, she was diagnosed with herpes and chlamydia.
Lebron claims that she first met Encarnacion in 2013. In 2015, she and a friend visited him during baseball season, and during that trip, Lebron claims she had sex with one of Encarnacion's teammates, who she did not identify. According to the lawsuit, Lebron got tested after this and did not have any STDs. In February 2016, she allegedly had unprotected sex with Encarnacion numerous times, and soon after exhibited symptoms. Lebron claims that she was then diagnosed with genital herpes and chlamydia. When she told Encarnacion, he claimed he was clean, but would get checked. He allegedly never told Lebron the results of any test.
As a result of this, Lebron is now seeking more than $11 million in damages from Encarnacion. The current American League leader in RBIs, Encarnacion is slated to earn $10 million this year. Lebron's claims include battery, negligent transmission of sexually transmitted diseases, misrepresentation of facts, negligent and intentional infliction of emotional distress, and breach of fiduciary duty. She alleges that Encarnacion had herpes and chlamydia at the time they had sex, that he was aware of it at the time, and that he lied to her about being clean.
Encarnacion's agent, Paul Kinzer, said in a statement obtained by Fox Sports that the claims are "completely inappropriate and meritless." Kinzer said, "This is an unacceptable attack on his exceptional character and stellar reputation within the baseball community as a man who carries himself with the highest level of integrity."
Kinzer said that Encarnacion himself will not comment on the matter, but that "[h]e will take every legal measure to defend himself against this frivolous claim and will bring appropriate claims in the appropriate forums against all of the individuals seeking to exploit his financial position."
[Screengrab via MLB]
Have a tip we should know? [email protected]