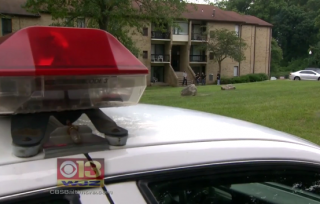 Officers went to a Baltimore-area apartment on Monday to apprehend a man and woman who each had outstanding warrants. Police said that after knocking and waiting 10 minutes to enter, hearing voices inside, the officers got a key to the home and opened the door to find the woman, Korryn Shandawn Gaines, 23, pointing a shotgun at them, WBAL reported. After hours of police trying to diffuse the situation, a shootout erupted, killing Gaines and injuring a 5-year-old child. In addition to the child, a man, who was wanted for assault, and a 1-year-old were in the apartment.
Cpl. John Wachter of the Baltimore County Police told WBAL:
When our detectives arrived at the scene, they found that the woman was armed and there was a juvenile in the apartment with her. So at that point, our detectives backed off, not only to call additional resources, but to ensure the safety of the community and bring a safe resolution to this incident.
The man Gaines was with tried to flee with the 1-year-old child, but police apprehended and arrested him. Gaines, who had a bench warrant for failing to appear in court for traffic offenses, disorderly conduct, and resisting arrest, stayed put and aimed the weapon at the officers. A standoff ensued at around 9:40 in the morning that went well into the afternoon.
According to police, negotiators tried to resolve the situation, but Gaines wouldn't move, and aimed directly at tactical officers multiple times. Officers said that at approximately 3pm, Gaines said, "If you don't leave, I'm going to kill you," at which point one officer fired at her, with Gaines returning with shots of her own, and police kept firing. Gaines was hit multiple times and died. The 5-year-old was injured, but it's unclear if he was hit by gunfire from police or Gaines. Gaines' relative, Andre Brady, told WBAL, "It was a terrible situation to have the little boy in the house with her, her son, who is at the hospital," adding, "But he's OK."
This was the first fatal police-involved shooting in Baltimore this year and third shooting overall. The death of Gaines, a black woman, at the hands of Baltimore police, has sparked backlash on social media. This is in the wake of prosecutors dropping charges on officers waiting to stand trial for the death of Freddie Gray, a black man who died from injuries he suffered while in the custody of Baltimore police.
White people are talked down & apprehended. #WatchWhitenessWork#KorrynGaines was gunned down & body bagged. Her 5yo son injured, too.

— Sam White (@samwhiteout) August 2, 2016
Baltimore police shot a BABY. was that baby "resisting" arrest or maybe the baby just wasnt following orders? #KorrynGaines

— isela (@iselasux666) August 1, 2016
Baltimore Police are in the process of implementing body cameras for their officers. It is still unknown whether the officers involved in the shootout were equipped with cameras or if there is video of what happened, according to CNN. A police spokeswoman told reporters that the department is looking into it.
[Image via screengrab]
Have a tip we should know? [email protected]