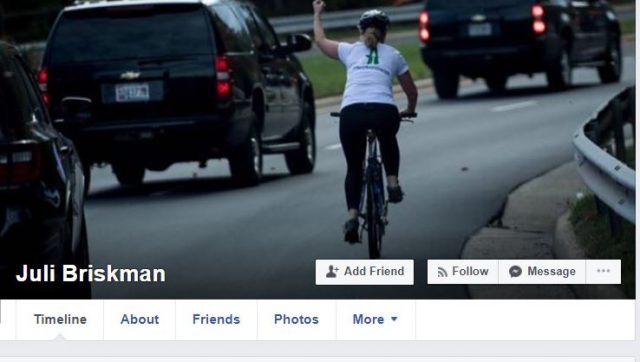 A woman lost her job after giving President Donald Trump the finger. Juli Briskman was off-duty when she was riding a bicycle past the president's motorcade, and gave him the one-finger salute. The greeting was caught on camera, and the image soon went viral. Briskman herself then used it as a profile picture on Facebook and Twitter. That last part, apparently, was too much for her employer, government contractor Akima LLC. Within days, they fired her, Briskman told HuffPost.
"They said, 'We're separating from you,'" Briskman told reporter Jennifer Bendery. "Basically, you cannot have 'lewd' or 'obscene' things in your social media. So they were calling flipping him off 'obscene.''"
While Briskman wasn't working at the time she did this, and she doesn't mention where she works in her social media profiles, the company told her it could hurt their business. The terms of her employment were at-will, so the company was within their right to do what they pleased.
Still, Briskman believes that the company hasn't exactly been consistent with their lewdness policy, as a male coworker once posted on Facebook calling someone else ""a fucking Libtard asshole." Briskman said that employee kept his job after deleting the comment.
"How is that fair?" she asked.
Briskman said this wasn't the first time she flipped off the motorcade, and despite losing her job, she does not regret what she did.
"I'm angry about where our country is right now. I am appalled. This was an opportunity for me to say something."
She says now that she's looking for work again, she hopes to get a job with an advocacy group like PETA.
Have a tip we should know? [email protected]