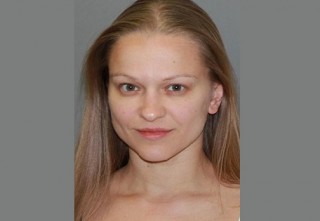 Angelika Graswald was kayaking with her fiancé, Vincent Viafore, last year, when Viafore's vessel capsized and he drowned, the New York Times reported. According to an investigator who testified at a pre-trial hearing on Monday, Graswald admitted to keeping Viafore's paddle from him as he went under.
The death was initially being viewed as an accident, but when investigators spoke to Graswald, she reportedly told Donald DeQuarto that she had removed the plug from Viafore's kayak, and when he started to go down, she ignored his plea for her to call 911. Instead, DeQuarto said, Graswald took his paddle away, letting him drown in the 46-degree waters of the Hudson River. She is now charged with murder.
Ten days after Viafore's death, DeQuarto and other investigators had found Graswald on Bannerman Island, a site on the river where she and Viafore had been taking pictures shortly before the man died. After police questioned Graswald for 11 hours, including a videotaped conversation, investigators arrested her.
A hearing is currently underway to determine whether statements that Graswald made can be admissible at trial, and her attorney, Richard Portale, is trying to have the tape of her police interrogation suppressed. LawNewz.com reached out to Portale for comment, and but he has not responded at the time of this writing. According to the Times, Portale views Viafore's death as an accident, but DeQuarto's testimony said otherwise.
"I asked, 'Did you remove that plug [in the kayak] so he would drown?'" DeQuarto recounted at the hearing. "She said, 'I guess I did.'"
Pre-trial hearings are continuing in Orange County Court on Tuesday, before Judge Robert Freehill. LawNewz.com will provide updates as the case progresses.
Have a tip we should know? [email protected]