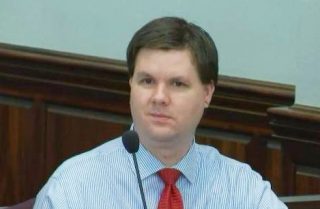 The prosecution continued to call witnesses on Thursday in the murder trial of Justin Ross Harris. Harris is accused of intentionally leaving his 22-month-old son Cooper in a hot car for hours, where he died. Court was only in session for the morning, but a number of witnesses were called, most of whom worked at the day care that Cooper had attended. Harris was supposed to drop his son off at day care on the day of Cooper's death, but instead, he went straight to work after taking his son for breakfast, and left Cooper in the backseat. The defense claims it was a tragic accident.
–>WATCH TRIAL LIVE ON LAWNEWZ FACEBOOK
A number of the witnesses commented on Harris as a person, his family dynamic, and Cooper. The general consensus was that there were no signs that anything was wrong. The first witness of the day was Melony Gibson, the director of the Little Apron Academy, where Cooper went to daycare. Gibson agreed with defense attorney Maddox Kilgore in that Harris was "gregarious," and a big personality.
Next was Keyata Patrick, a teacher at Little Apron. Patrick said that Cooper talked a lot, which the prosecution may plan on using to argue that the child was chatting in the car while Harris was on the way to work. Michelle Gray, who taught at Little Apron when Cooper was there, also said that Cooper was talkative, and that he learned how to say her name. Gray commented that the Harrises seemed like a normal family, and they appeared to treat Cooper appropriately.
Overall, the witnesses' testimony seemed to favor the defense on this day, but the prosecution will continue to call witnesses on Friday morning, stating at 8:30am ET. We will continue our LIVE trial coverage and analysis on our Facebook page.
Have a tip we should know? [email protected]