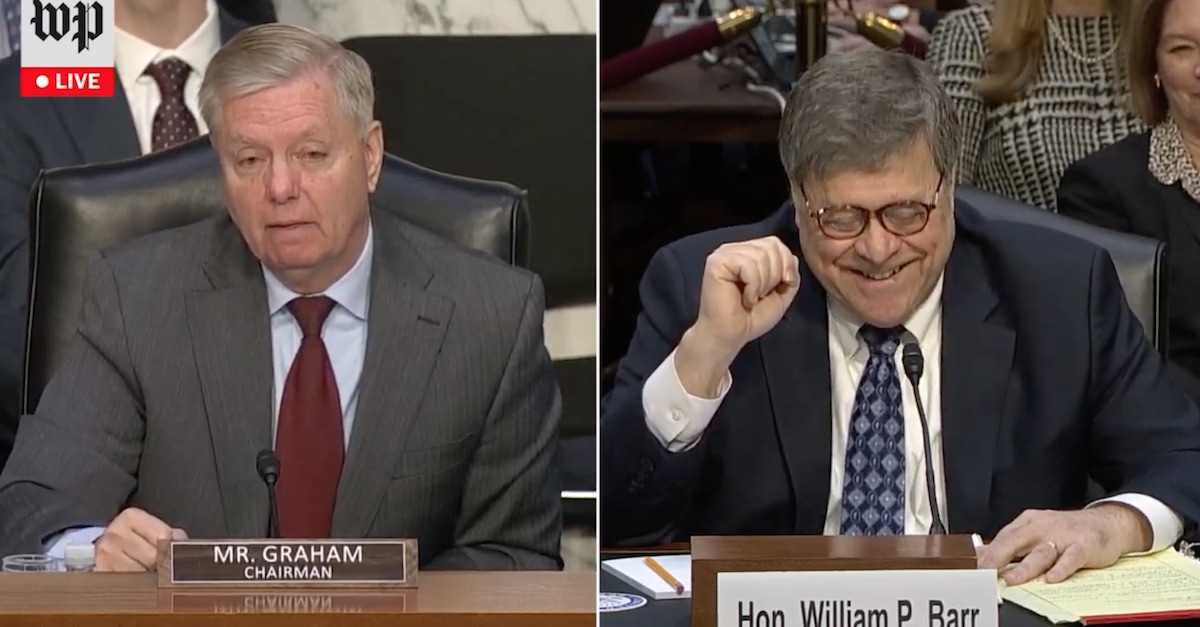 During his confirmation hearing before the Senate Judiciary Committee on Tuesday, U.S. Attorney General nominee William Barr made a series of promises to committee chairman Sen. Lindsey Graham (R-S.C.), including investigations that may be seen as politically motivated.
Graham began by asking, "Do you know Lisa Page and Peter Strzok?"
"I've heard their names," Barr responded, smiling.
Graham then read a text message from 2016 that said, "Trump's not ever going to become president, right? Right." That one was from FBI lawyer Lisa Page. Then FBI agent Peter Strzok, who worked on the Hillary Clinton email investigation, responded by saying, "No, no. We'll stop it."
After that, Graham asked Barr if he would "look into what happened in 2016," and Barr simply replied, "Yes, Mr. Chairman." Barr would add that he was "shocked" when he saw these texts for the first time.
Strzok and Page have, of course, became frequent targets of President Donald Trump's ire.
From there, Graham shifted to the subject of "Michael Steele" (he meant Christopher Steele, after whom the "Steele Dossier" was named). Graham asked Barr to look into Fusion GPS, the Carter Page FISA warrant, and the use of the unverified Steele Dossier to surveil Page. Graham said that the Dossier was deemed "reliable" on four occasions as a main source to monitor Page.
"Would you look into whether that was an accurate statement and hold people accountable if it was not?" Graham asked.
Again Barr answered, "Yes, Mr. Chairman."
Barr otherwise admitted that he knows Special Counsel Robert Mueller personally, believes he will do the best thing for the country, and is not conducting a "witch hunt."
[Image via Washington Post/YouTube screengrab]
Have a tip we should know? [email protected]