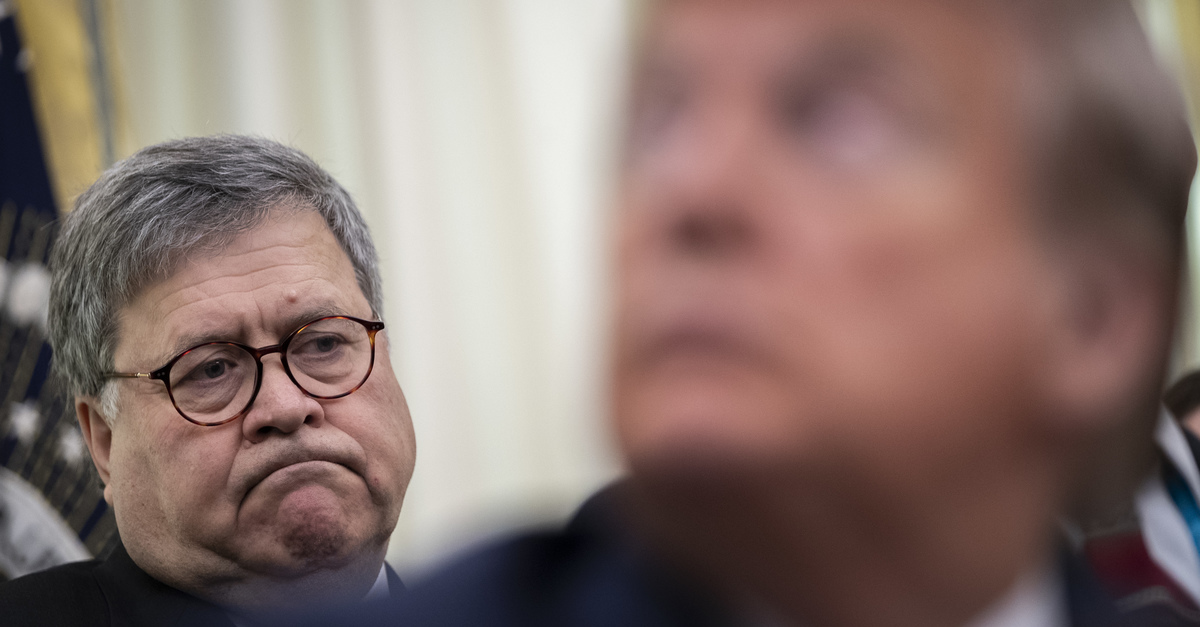 President Donald Trump on Tuesday defied Attorney General William Barr's request that he stop tweeting about federal judges presiding over Department of Justice cases, sending a tweet critical of U.S. District Court Judge Amy Berman Jackson. The latest Trumpian salvo left attorneys and political experts wondering whether Barr was sincere in his latest ABC News interview–and would consider resigning in protest–or whether the whole thing really was "absolutely nonsense theatrics."
Trump tweeted a quote from Fox News legal analyst Judge Andrew Napolitano defending his longtime friend and advisor Roger Stone, saying the recently convicted felon deserves a new trial because one of the jurors did not like President Trump. Napolitano's comments are also implicitly critiquing Judge Jackson as someone who may not do the "right thing," despite little legal support for Stone being deserving of a new trial.
Less than a week ago, Barr told ABC News the following [emphasis ours]:
And I'm happy to say that, in fact the president has never asked me to do anything in a criminal case. However, to have public statements and tweets made about the department, about our people in the department, our men and women here, about cases pending in the department, and about judges before whom we have cases, make it impossible for me to do my job and to assure the courts and the prosecutors in the department that we're doing our work with integrity.
MSNBC contributor, former federal prosecutor and University of Alabama law professor Joyce Vance White immediately responded to Trump's tweet, calling on Barr to do more or else be complicit in the president's efforts to politicize the Justice Department.
"This can't stand. And any Attorney General who is complicit in this, supporting this President by refusing to correct him (asking him not to tweet doesn't qualify) isn't fit to serve," she wrote. "Since the President won't fire Barr, the people will have to."
Former Acting U.S. Solicitor General and Supreme Court litigator Neal Katyal suggested that if Barr was sincere in his comments he would summarily resign from his post.
"Trump tweeting about judges again in pending criminal matters. If Barr meant what he said last week, I would think there is only one response," he said.
Former federal prosecutor and CNN legal analyst Elie Honig said enough is enough.
That sentiment was echoed by NBC News national security and intelligence correspondent Ken Dilanian.
"Will he resign today?" he asked.
Others suggested that Trump was intentionally turning up the heat to induce Barr's resignation, though many were not at all convinced by that take.
Even conservative attorney and National Review contributor Ed Whelan condemned the president's tweet, simply telling him to "STOP IT!"
[image via Drew Angerer/Getty Images]
Have a tip we should know? [email protected]