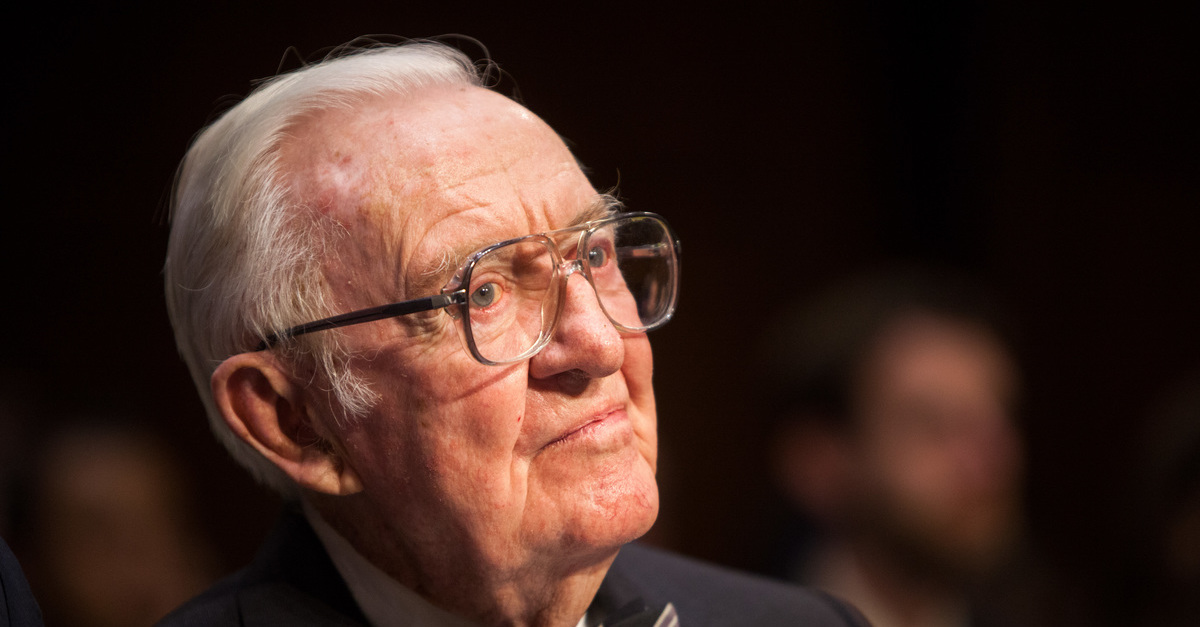 Retired U.S. Supreme Court justice John Paul Stevens believes that Brett Kavanaugh's performance during his confirmation hearings should disqualify him from serving on the nation's high court.
According to the Palm Beach Post's Lulu Ramadan, Stevens rubbished the increasingly likely prospect of a Kavanaugh installment on the Supreme Court. Stevens comments were made in front of a small crowd at a moderated discussion forum for Boca Raton retirees.
At the heart of Stevens' critique was Kavanaugh's highly partisan speech defending himself against Dr. Christine Blasey Ford's sexual assault allegation.
Stevens had previously supported Kavanaugh's nomination, saying the D.C. Circuit Court judge was sufficiently qualified to serve on the Supreme Court. Stevens even once praised Kavanaugh directly in a book he wrote in 2014. In "Six Amendments: How and Why We Should Change the Constitution," Stevens lauded the younger judge for a ruling he issued regarding political contributions.
"At that time, I thought he had the qualifications for the Supreme Court should he be selected," Stevens noted, of his 2014 praise for Kavanaugh.
That professional respect faded, however, after Kavanaugh's rage-filled diatribe alleging a left-wing conspiracy against him. Stevens said:
I've changed my views for reasons that have no relationship to his intellectual ability…I feel his performance in the hearings ultimately changed my mind.
Stevens specifically singled out Kavanaugh's politically-charged invective as a reason for his decision to part ways with Kavanaugh, adding that many commenters have predicted it would result in bias from Kavanaugh's eventual opinions were he to serve on the court.
"I think there's merit to that criticism and I think the senators should really pay attention that," Stevens said.
Stevens is famously a lifelong Republican–though he just as famously sided with the liberal wing of the court on several hot-button issues over the years.
Perhaps sealing his fate as a liberal justice in the public imagination–though that's not entirely true–was Stevens' lengthy dissent in the landmark case of Bush v. Gore.
Stevens served on the court for 35 years and retired in 2010 after having been nominated by former president Gerald Ford. Stevens was unanimously confirmed by the U.S. Senate in 1978.
[image via Allison Shelley/Getty Images]
Follow Colin Kalmbacher on Twitter: @colinkalmbacher
Have a tip we should know? [email protected]