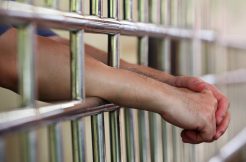 A 40-year-old Montana man had sex with his 12-year-old daughter in 2015. That's a fact. He pleaded guilty to felony incest in front of a Valley County judge. And with the prosecutor recommending a 100-year prison sentence (75 which of which would be suspended), it seemed like he'd only get out when he was old and grey.
Except no, that won't be the case. On October 4, Judge John McKeon decided that he would ignore the minimum of 25 years that was part of the plea agreement and instead sentence him to a 30-year suspended sentence. What that means is the man will only spend a total of 60 days in jail, and 17 of those days were already registered as time-served.
We are not naming the man because this might unintentionally invade the privacy of the girl. After all, she's a minor and the victim of a sexual assault.
McKeon's reasoning for the sentence is that the man had a lot of support from the community, including family (the girl's mother and grandmother), friends, church, and current employer. And a social worker had testified that the man was at a low-risk of re-offending.
"I'm not asking that he be given a slap on the wrist," his attorney Casey Moore said. "He did spend 17 days in jail and he did lose his job," adding that the man will undergo life-time supervision as a sex-offender. But, of course, it's tough to characterize an additional 43 days as anything but a tiny, tender slap.
As part of the plea agreement, the man only admitted to one instance of felony incest. However, at least one other was mentioned in testimony and in a risk-assessment by a social worker, so Deputy Valley County Attorney Dylan Jensen had, understandably, pushed for a far more serious sentence.
"I was shocked and disappointed, but I respect the judge's decision," he told The Glasgow Courier.
[h/t The Glasgow Courier]
–
Follow Alberto on Twitter (@Alberto Luperon)
Have a tip we should know? [email protected]