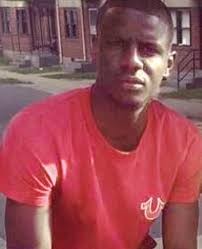 The Baltimore police officers facing charges, related to Freddie Gray's death, are in a for a long legal haul. The judge presiding over the Freddie Gray police trials will likely delay yet another officer's case since an appeals court must first decide a critical issue related to it—whether an officer facing criminal charges can be forced to testify for the prosecution.
The trial of Officer Caesar Goodson, the driver of the van that transported Freddie Gray, has already been delayed until later this year. The next trial, set for February 8, is that of Sergeant Alicia White. Even if White's trial is postponed, that doesn't mean the other three officers charged in Freddie Gray's death won't go to trial in the coming months. Then again, maybe they won't.
Here's why White's trial will likely be postponed. The prosecution says that Officer William Porter is a critical witness for the state not only in Caesar Goodson's case but also White's.  A jury deadlocked late last year in Porter's manslaughter trial; his retrial is set for June. Despite Porter's pending criminal charges, the judge has ordered him to testify, with immunity, for the prosecution. The state needs his testimony in Goodson's and White's trials. Porter is contesting that order on the grounds that he has a fundamental 5th amendment right not to incriminate himself.  A Maryland appeals court wants to hear argument on the matter on March 4. Although White's case isn't part of that appeal, it's clear that any ruling affecting Porter's testimony, affects her case too.
Last week Porter filed a motion to prevent his testimony at White's upcoming trial.
The prosecution surely doesn't want to be forced to try White without Porter's critical testimony so they are not objecting to his request.
Meanwhile, White's attorneys are pretty upset that apparently they were not told of a January 6 hearing where Porter's testimony in Goodson's trial was discussed since the same issues affect White's case.  The day after the hearing, Judge Barry Williams issued the order compelling Porter's testimony. White is now asking the court to strike that order since she wasn't present at a very critical stage of her case.
A hearing is set for tomorrow at 2:00 p.m. in Baltimore City Circuit Court on the matter. It's doubtful Judge Williams will grant the motion though White has a good argument. If the judge were to grant it, the state won't be able to prove its case against her since Porter is a key witness.
The next question is: Whose trial is next? There are still three other officers facing criminal charges for the death of Freddie Gray last April. Late last week, however, the state filed motions to compel Porter's testimony in the remaining three cases stating they "may" call him as their witness. That means no trials are likely to move forward until the appellate court resolves whether Porter's 5th Amendment rights are violated despite the offer of derivative immunity. That's why there's a long legal battle ahead
Have a tip we should know? [email protected]