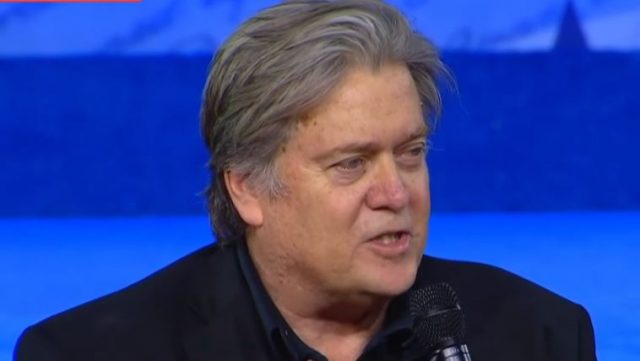 The White House has its own in-house communications department. Its members, including Sarah Huckabee Sanders, new director Anthony Scaramucci, and recently-departed Sean Spicer, have become minor celebrities. Yet despite this, an outside, private public relations professional has been handling certain questions directed to senior White House staff, including Steve Bannon.
According to the Center for Public Integrity, Alexandra Preate is the one who has responded to questions directed to Bannon. Preate, who reportedly fancies herself Bannon's "personal spokesperson," also helps other White House staff members with communications issues. Ethics experts told the Center that this sort of thing is unprecedented in the White House.
Preate's firm, Capital HQ, represents Breitbart News, which Bannon led before joining the White House. The firm says Preate's not being paid for her services, but is merely working as a volunteer. That should be a good thing, right? Since taxpayer dollars aren't going towards this? Not necessarily.
The Anti-Deficiency Act says:
An officer or employee of the United States Government or of the District of Columbia government may not accept voluntary services for either government or employ personal services exceeding that authorized by law except for emergencies involving the safety of human life or the protection of property.
Former Obama administration ethics czar Norm Eisen says this could fit the bill. "She seems to be privy to government information, and she appears to be acting on behalf of a government entity, either Bannon or the White House Press Office," he told the Center for Public Integrity. "If she's doing it for free, then that is a potential violation of the Anti-Deficiency Act."
The Center asked Preate, the White House, the Justice Department, the White House Counsel's Office, and Bannon's aides about this, but they all failed to provide answers on the record. LawNewz.com also reached out to the DOJ, but they have not responded.
Violations of the Anti-Deficiency Act usually happen about a dozen times a year and only result in administrative discipline, but it's technically a felony that could land someone in prison for two years on top of a $5,000 fine. Of course, no one has ever been convicted of a crime for this.
[Image via MSNBC screengrab]
Have a tip we should know? [email protected]