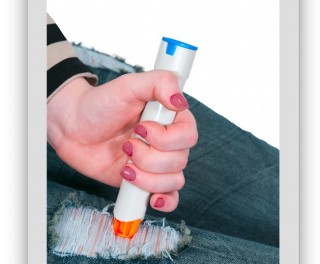 It's back-to-school time, and for many parents, that means stocking up not only on #2 pencils and pocket-folders, but also replenishing their EpiPens. Parents of children with allergies face the exhausting tasks of obtaining and filling prescriptions, complying with school rules, checking expiration dates, monitoring schools' use and storage of this medication, and of course, sending their reaction-prone children to school without much more than anxiety-filled hopes that they'll return home without having an anaphylactic incident. Mylan Pharmaceuticals, the company that produces the EpiPen, makes over $1 billion a year from this life-saving product; but apparently, that's just not enough. Mylan has now raised the price of a dual-pack of EpiPens to over $600. For those of you keeping score at home, that's a 500% increase since 2004. Last year alone, Mylan raised the price of EpiPens by over 30%.
Deborah Solomons, Food Allergy Awareness Activist spoke with LawNewz today:
"1 in 13 children suffer from allergies – many of them facing potentially fatal reactions if allergens are ingested. Right now, EpiPen is our best insurance against a life-threatening reaction. We rely on our children's having access to multiple EpiPens at all times – including in school, at sporting events, and when traveling. Paying hundreds of dollars out of pocket is just not an option for all families."
Solomons, who is also a licensed clinical social worker, continued on to discuss the global impact such pricing has on families: "It's stressful enough to deal with the allergies, and the financial burden just compounds the stress."
The price hike might not feel so offensive had it not come on the heels of Mylan CEO Heather Bresch's having taken a 600% pay increase, bringing her grand total to $44.7 million over the past two years. There's also more to hate: Mylan recently did what's commonly called a "corporate inversion." The basic concept is that Mylan purchased a smaller pharmaceutical company that is headquartered in the Netherlands; as a direct result of that acquisition, the company is now taxed primarily as a foreign corporation. It will pay taxes at a lower tax rate on some income, and skip out completely on taxes for other income.  Bresch's take on squeezing Mylan through this tax loophole has been "it's not me, it's the tax code;" in the competitive pharmaceutical marketplace, Mylan had no choice but to minimize its tax exposure.
Other companies have attempted to take their place within the epinephrine market, but have failed.   Most recently, Sanofi voluntarily recalled their Auvi-Q, leaving Mylan with an effective monopoly. Whether Mylan has had a hand in squelching its competition remains to be seen – but is certainly the suggestion made by a variety of media outlets and political critics.
Heather Bresch herself has also been involved with a scandal or two – like the time when she got an MBA from West Virginia University, only to have it revoked after an investigation concluded that her transcripts had been falsified by school officials. At the time, Bresch's father, Joe Manachin, (who was then the governor of West Virginia, and who is now a U.S. Senator) and the family had close ties to the university's administration; two top-ranking members of which promptly resigned on the heels of the scandal.
The EpiPen pricing issue has even united political foes against Mylan. Senator Chuck Grassley (R-Iowa), the chair of the Senate Judiciary Committee, began an inquiry into Mylan's pricing earlier this week. Senators Amy Klobuchar (D-Minn) and Richard Blumenthal (D-Conn.) have also been active in demanding a price reduction. Even infamous pharmaceutical gauger Martin Shkreli described Mylan as a group of "vultures."
Food Allergy Research & Education ("FARE") released the following statement today:

"For the millions of Americans at risk for anaphylaxis, epinephrine is a lifeline. It is the only drug that can counteract a potentially life-threatening allergic reaction. FARE believes no individual in need of epinephrine should ever be without this life-saving drug due to a lack of affordable access to the drug. Even a single life lost due to lack of access to this drug is one life too many. We are deeply concerned about the challenges our community face related to the accessibility and affordability of epinephrine, which have become increasingly difficult for various reasons."
And let's not be naïve about the radius of impact here. Mylan's pricing doesn't affect only allergy sufferers. As Senator Grassley pointed out, with 40 percent of children publicly insured. "taxpayers are picking up the tab for this medication."
It's certainly tempting to blame Big Pharma for business practices motivated by greed at the expense of children's health. But after speaking with Robert Goldberg, Vice President for the Center for Medicine in the Public Interest, I think there may be a far more complex web of avarice at play. According to Goldberg, pharmaceutical companies have little choice but to consistently and drastically increase the list prices for drugs; the combination of government-imposed price controls and drug shortages (resulting from the increasingly small pool of generic drug manufacturers willing to take the financial risk of producing certain medications) effectively mandates companies like Mylan to charge sky-high list prices for its products. Context is important too. Goldberg pointed out that the cost of other drugs, such as Albuterol and commonly-used antibiotics, have gone up as much as 3500%.
Goldberg shared with me his take on the underlying reason for EpiPen pricing having suddenly become a controversial issue:
"Mylan didn't do anything illegal. This is pre-election hoopla. Mylan is in the hotseat because it ran ads endlessly during the Olympics. At times, I didn't know whether I was watching an EpiPen documentary or women's gymnastics."
But media hype or no, $600 is a lot to spend on this product.   If it's not Mylan's fault, what's the real cause of the outrageous cost of EpiPens? According to Goldberg, this is a "great example of crony-capitalism. Everyone knows the joke –you raise prices, you get beaten up, but then everyone pockets the money. If you lift up the rock on the rhetoric, you find a series of incestuous relationships between manufacturers, insurers, and the government that focus on dividing up discounts and cash rebates and passing the cost onto consumers."
The outrageous pricetag on EpiPens, after all, is the "list price." That means that when the manufacturer issues "rebates" (which is standard practice), those rebates are lining the pockets of pharmacies and health insurers – but not those of consumers.   The EpiPen issue can be framed as "Big Pharma and the Government Watchdogs Trying to Protect Us" as easily as "The Predatory Tale of Healthcare Companies and the Politicians Who Enable Them" – it's all in the telling. While we, the consumers, are left to sort it all out, the prices of EpiPens will likely continue to rise.
This is an opinion piece. The views expressed in this article are those of just the author.
Elura Nanos - Columnist & Trial Analyst, Law & Crime; CEO Lawyer Up