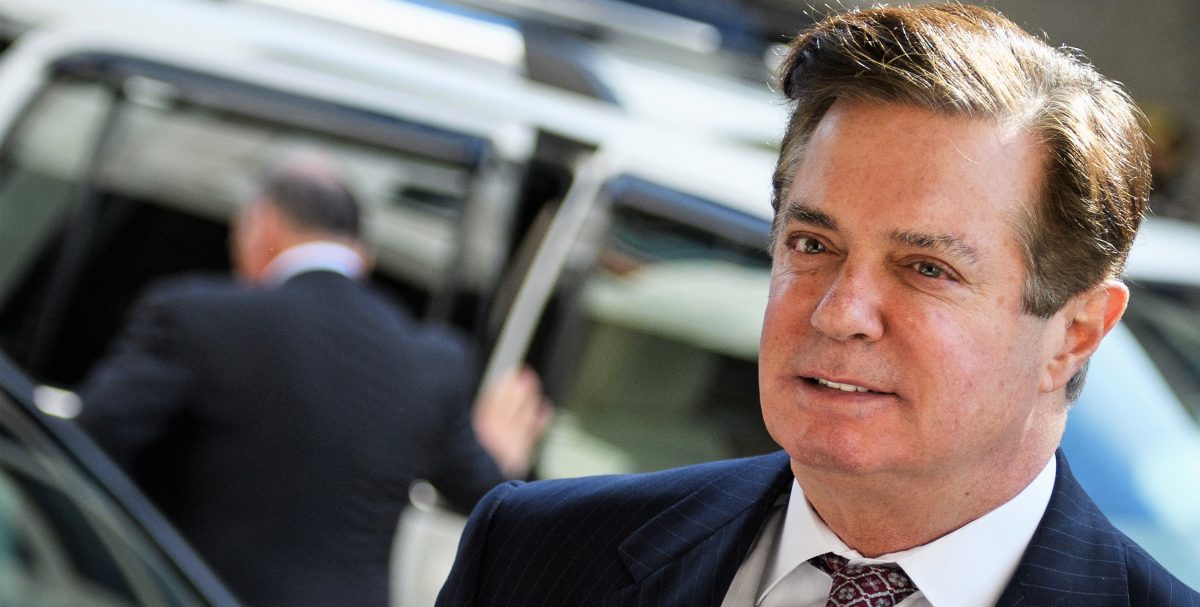 Five people have been granted immunity from prosecution in the upcoming criminal trial of the former campaign chairman of President Donald Trump.
That former campaign chair, Paul Manafort, faces a series of federal charges in two different jurisdictions. He's charged with conspiracy to launder money, conspiracy against the United States, failing to file financial disclosures for foreign bank accounts, failing to register as an agent of a foreign principal, and making false statements in Washington, D.C. However, he also faces lesser-publicized charges of bank and tax fraud in the Eastern District of Virginia. Special Prosecutor Robert Mueller alleges Manafort led a "lavish lifestyle" in the United States off of "hidden wealth" stashed in foreign countries — without paying U.S. taxes.
Here are the five people who have immunity: Donna Duggan, James Brennan, Conor O'Brien, Cindy Laporta, and Dennis Raico.
All five are said to be connected to financial institutions.
Five witnesses given immunity in Manafort: Donna Duggan, James Brennan, Conor O'Brien, Cindy Laporta, Dennis Raico. All from financial institutions.

— Rachel Weiner (@rachelweinerwp) July 23, 2018
The Dennis Raico to whom immunity has been granted may be the same Dennis Raico said to have been involved with a purported deal through Chicago's Federal Savings Bank to loan $16 million to Manafort in return for the bank's founder, Steve Calk, serving as an economic advisor to Trump.
The Cindy Laporta to whom immunity has been granted appears to work as a Certified Public Accountant for KWC, an accounting firm with two locations in Virginia. A spokesman for the firm, Craig Browning, confirmed Monday evening to Law&Crime that Manafort was a "former client" for whom the firm "prepared individual and business income tax returns." Browning went on to say that the firm has cooperated and "will continue to cooperate fully with the prosecution," and that "current and former employees of the firm . . . may be called as witnesses" in the Manafort case. (Browning did not directly confirm that the Laporta named in court documents was the Laporta who works at KWC.)
Law&Crime continues to seek to identify the others.
The type of immunity said to have been offered is "use immunity."
JUST IN: After judge's order, names of potential witnesses that could get "use immunity" in upcoming Manafort trial have been unsealed:

-Dennis Raico
-Cindy Laporta
-Conor O'Brien
-Donna Duggan
-James Brennan

— NBC News (@NBCNews) July 23, 2018
So-called "use immunity" protects the witnesses against a government attempt to "use" the witness's testimony in any hypothetical subsequent prosecution against the witness. (This type of immunity basically is an attempt to prevent the witness from pleading the Fifth.) As the manual for U.S. Attorneys points out, it is different from "transactional immunity," which is broader. Transactional immunity protects witnesses from being prosecuted for the underlying offense about which they may be called to testify.
Here, the witnesses being offered immunity apparently don't have that broad of a protection. They could be prosecuted if they did something illegal, but their words could not be used against them.
The charges Manafort faces in the Eastern District of Virginia were scheduled to go to trial Wednesday; however, the case has been pushed back to the end of the month.
[Photo by MANDEL NGAN/AFP/Getty Images.]
[Editor's note:  this report has been updated.]
Have a tip we should know? [email protected]
Aaron Keller - Deputy Editor-in-Chief