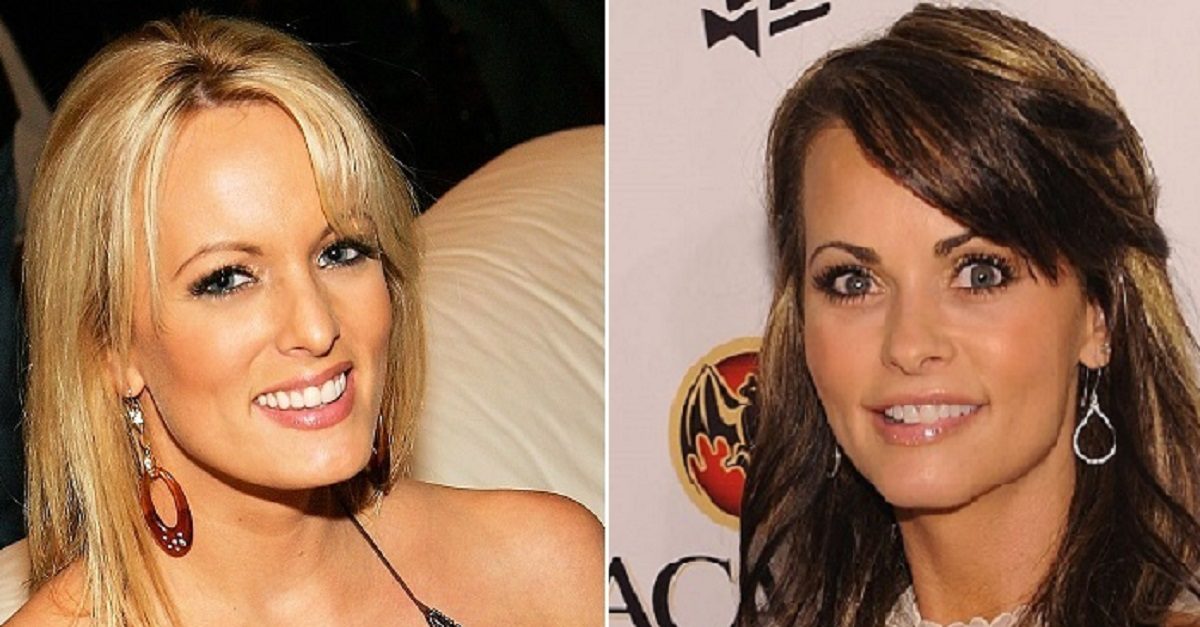 A massive report by the Wall Street Journal on Friday says that federal prosecutors have evidence of President Donald Trump's involvement in hush payments made to adult film star Stormy Daniels and Playboy model Karen McDougal to keep them from discussing allegations that they had affairs with Trump in the past. The report describes Trump as being "central" to the payments, which resulted in Trump's former lawyer Michael Cohen being convicted of campaign finance violations for his participation. More importantly, however, is the distance Trump maintained while it went on.
The report cites "interviews with three dozen people who have direct knowledge of the events or who have been briefed on them" as its sources, in addition to court records, corporate documents, and other materials. It says that Trump was involved with or at least kept up to date with "nearly every detail" of the Daniels and McDougal payments, which were later considered to be in-kind contributions to the Trump campaign, as they were made soon before the 2016 election and kept damaging information from the public. According to the report, federal prosecutors in New York have evidence of Trump's role in the payments, despite his past denials.
McDougal's payment of $150,000 had been made by A.M.I., the parent company of the National Enquirer. A.M.I. chief David Pecker is a long-time friend of Trump's, and according to the WSJ, the two met in August 2015 and discussed how Pecker could help Trump's campaign. After Trump asked how Pecker could assist, Pecker said he could use the Enquirer to pay for women to keep quiet if anyone tried to bring allegations against Trump, sources familiar with the meeting told the newspaper.
That's exactly what McDougal claimed happened in a lawsuit she brought against A.M.I. She alleged that the media company offered her money for the rights to her story, which they buried as part of what's known as a "catch and kill" technique. In exchange, she was promised media exposure that she alleges she never received. McDougal also claimed that Michael Cohen was involved in the deal, allegedly working with her own lawyer to make sure it happened. The WSJ report states that Cohen kept Trump informed about the status of the deal, while Trump remained on the sidelines.
Cohen, meanwhile, has been cooperating with federal prosecutors, and reportedly gave them information regarding Trump's involvement in the payments. When he pleaded guilty, Cohen stated in open court that his involvement in arranging the payments to McDougal and Daniels were at Trump's direction.
In conversations with prosecutors, Cohen said that during the time leading up to the November 2016 election, he and Trump talked about buying Daniels' silence. Cohen reportedly said that Trump instructed him to "get it done." After working on different ways to covertly arrange the deal and make the payment, Cohen eventually made the payment himself, the reports says, and was later reimbursed by the Trump campaign, despite some apparent initial resistance from Trump.
The evidence of Trump's involvement in the payments is legally significant, as it backs up Cohen's claim that Trump directed payments that were found to have been in violation of federal law. The most damning evidence of all, however, isn't just regarding Trump's involvement in the payments, but the details of discussions of a cover-up.
Cohen reportedly told the feds that he talked to Trump and a Trump Organization executive about how to keep Trump's fingerprints off the Daniels payment. The payment eventually came from Essential Consultants LLC, a shell company set up by Cohen, and Cohen had said in the past that he made the payment on his own, without Trump's knowledge or reimbursement. Trump himself denied having any knowledge or involvement. Cohen's guilty plea and additional evidence indicate otherwise.
Just like in the McDougal situation, Trump used Cohen has his envoy for working out elaborate payment arrangements instead of writing a check himself. This is problematic for Trump, as campaign finance violations, such as illegal corporate contributions or donations that exceed the maximum allowable amount, require willful violation of federal law. Trump's denials and discussion of how to keep his name out of it would help support allegations that he knew the payments were illegal.
The Wall Street Journal asked Trump last month about whether he discussed the payments with Cohen.
"Nobody cares about that," he said.
[Image of Stormy Daniels via Ethan Miller/Getty Images, Image of Karen McDougal via Dimitrios Kambouris/Getty Images for Playboy]
Have a tip we should know? [email protected]