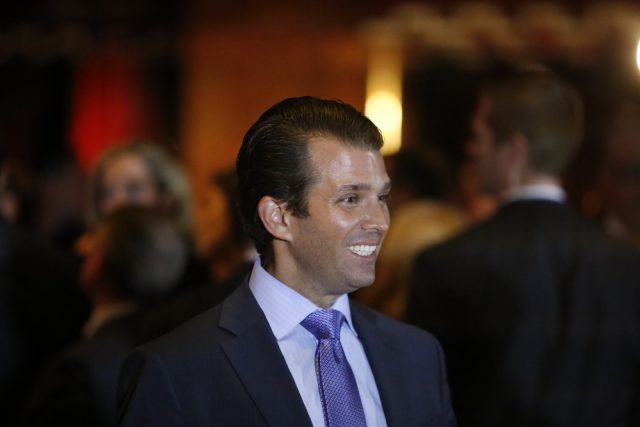 Harvard Law Professor Laurence Tribe, who has been an outspoken critic of the Trump administration, claims that new information regarding a memo that Donald Trump Jr. received prior to his meeting with the Russian lawyer is the "smoking" gun needed to nail him on a crime. A New York Times report broke Monday night that claimed Trump Jr. received an email indicating the Clinton dirt was part of a Russian government scheme to help Trump win the election. The message was sent by a publicist who helped broker the meeting between Trump Jr. and the Russian attorney Natalia Veselnitskaya.
We now have the proverbial smoking gun: TJr was part of criminal conspiracy to violate fed crim laws banning foreign aid to any US campaign. https://t.co/rEvNRm0IN9

— Laurence Tribe (@tribelaw) July 11, 2017
According to Tribe, Trump Jr. was "part of a criminal conspiracy" to violate a federal criminal law banning foreign aid to any U.S. campaign. As we reported earlier this week, the law on point here is contained in 11 CFR 110.20. Section (b) reads:
Contributions and donations by foreign nationals in connection with elections. A foreign national shall not, directly or indirectly, make a contribution or a donation of money or other thing of value, or expressly or impliedly promise to make a contribution or a donation, in connection with any Federal, State, or local election.,,,
(g) Solicitation, acceptance, or receipt of contributions and donations from foreign nationals. No person shall knowingly solicit, accept, or receive from a foreign national any contribution or donation prohibited by paragraphs (b) through (d) of this section.

(h) Providing substantial assistance.

(1) No person shall knowingly provide substantial assistance in the solicitation, making, acceptance, or receipt of a contribution or donation prohibited by paragraphs (b) through (d), and (g) of this section.
The law makes it a crime for someone to solicit a foreign national for "anything of value … in connection with" an election.
"When the Federal Election Commission (FEC) promulgated this ban on 'substantial assistance, it said little about its scope.  It did make clear that the term was to be broadly construed," wrote Bob Bauer, a professor at NYU in a recent blog post.
So, would this count as providing substantial assistance, especially since Trump Jr. never received the information?
Election law expert Rick Hasen says this doesn't bode well for the first son saying it "considerably strengthens the solicitation/coordination claims."
Well this evening's NYT revelation that Trump Jr. Knew he was getting Russian info considerably strengthens solicitation/coordination claims

— Rick Hasen (@rickhasen) July 11, 2017
"The conspiracy could just be between the Trump campaign, the illegal object could be to get illegally obtained information–the Russian could or could not be a co-conspirator. All you need is an agreement and an act in furtherance, it doesn't matter if the Russian doesn't have the information she promised to have," Attorney Tor Ekeland, a criminal defense attorney who has represented high profile clients in hacking cases, told LawNewz.com. 
"In my view, this is much ado about nothing. During this busy period, Robert Goldstone contacted Don Jr. in an email and suggested that people had information concerning alleged wrongdoing by Democratic Party front-runner, Hillary Clinton, in her dealings with Russia," Trump Jr.'s lawyer Alan Futerfas told The Times. 
In a series of tweets, Trump Jr. said he did what anyone would have done who worked for an opposing campaign.
"Obviously I'm the first person on a campaign to ever take a meeting to hear info about an opponent… went nowhere but had to listen," he said.
Have a tip we should know? [email protected]
Rachel Stockman - Editor in Chief / On Air Host