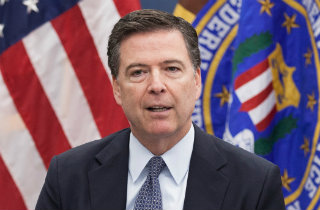 FBI Director James Comey has once again thrown a curveball into the 2016 election with just two days to go. In a late Sunday afternoon letter to Congress, Comey confirmed that the FBI has not changed their conclusion regarding their decision not to move forward with charges against Hillary Clinton. Despite FBI agents reportedly having thousands of emails to get through in just over a week, Comey said they found nothing that would change their conclusion about the investigation. Apparently, many of the emails were duplicates from their first probe. However, we wanted to know, is it possible for FBI agents to thoroughly review this many emails in such a short time span?
FBI investigations usually take weeks if not months to complete. We reached out to a variety of experts with deep knowledge about FBI Public Corruption investigations to get their insight. Some told us the speed of this review was highly unusual, and also raised questions about whether agents conducted a meaningful process. However, some contend, at the very least, it was entirely possible that they did.
Bill Thomas (Former federal prosecutor)
"I don't know how you do a meaningful review of 30,000 documents in such a short period of time. I would imagine that with all the criticism of his conduct and the implications resulting from a pending investigation of a presidential candidate, the FBI pulled out all the stops to get them reviewed.
I believe that under normal circumstances something like this would have taken weeks if not months.  I would also expect that there would have been some involvement by prosecutors as well but it looks as if they are punting this whole mess to Comey and the FBI and maybe that did not happen either.
These would be all interesting questions to pose to Mr. Comey…how was the review done?  Who did the review?  Who made the ultimate call of no prosecution?  Were there prosecutors from DOJ involved in the review and decision making process?"
Henry E. Hockeimer (Attorney at Ballard Spahr, former assistant U.S. attorney)
"Nothing about this is the usual – particularly after the first Comey letter. That letter, and the subsequent criticism, may have spurred the Bureau on to review this new information as quickly as possible and reach some conclusion before the election.  From reports it's a lot of emails, but with significant manpower it's certainly possible all of it was comprehensively reviewed for any relevant information.  It's unclear to me whether any prosecutor played an active role in this piece of it – seems like the FBI was in the lead. My guess is there was some prosecutorial role, but not a significant one.
After all of this firestorm over the last week and not having found anything problematic it appears to be a big 'never mind.'"
Elkan Abramowitz (Washington D.C., White Collar Criminal Defense Attorney)
"The review wouldn't necessarily take too long if the Abedin emails were duplicates of material they already had reviewed.  Comey should have conducted the review before he wrote the first letter. Millions of people have voted based on an unfair innuendo created by the first letter that Comey had found new evidence to warrant the reopening of the investigation.  All in all, Comey made a huge mistake originally which today's letter only partially ameliorates."
Page Pate (Atlanta, Criminal Defense Attorney, adjunct professor of law at the University of Georgia)
"It's possible if they put over a hundred agents on it. And it looks like that's what they did. (Were you surprised?) Not considering all the pressure the FBI was under after he made the announcement. The reputation of the entire FBI was on the line."
Nancy Savage, Executive Director, Society of Former Special Agents of the FBI
They used technology to parse the emails to only those that went through Clinton's server, then they were able to parse the ones they had not seen yet, and had agents and analysts working around the clock looking at the new stuff. Apparently, they ruled the new emails to be more of the same or not indicative of the pertinent criminal violations of law. Obviously they threw resources at it to resolve before election. FBI is apolitical and did not want to be in this position of having to review new evidence on this case right before an election.
We've reached out to more experts and will update this article if we get a response.  
[Photo: Public domain work via FBI]
Have a tip we should know? [email protected]
Rachel Stockman - President / On Air Host