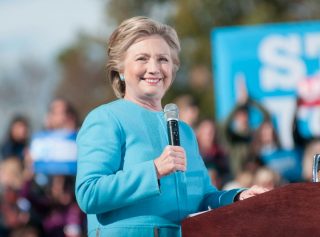 The Washington State's Secretary of State's Office confirmed to LawNewz.com that they plan to pursue civil penalties against the four Electors who defected from the State's popular vote, and opted not to vote for Democratic Presidential nominee Hillary Clinton. 3 electors voted for Colin Powell, and a fourth elector cast his vote for Faith Spotted Eagle, a member of the Sioux Nation and an activist against the pipeline. The remaining 8 Electors voted for Clinton.
"We will be enforcing the law. We are working with the Attorney General on this, we have never had to impose this law before," David Ammons, the communications director for the Secretary of State's Office, told LawNewz.com. 
According Washington's law, (RCW §29.71.020)/RCW 29A.56.340, a "faithless" elector who votes for a person or persons not nominated by the party of which he or she is an elector is subject to a civil penalty of up to one thousand dollars.
Here's the final tally for WA electors read aloud #komonews #ElectoralCollege pic.twitter.com/oUktFjqZ6M

— Matt Markovich (@mattmarkovich) December 19, 2016
"It will not be an honorific one dollar, it will be in the spirit of the statute which seems to point to $1,000, but we are still working out the exact amount (of the penalty)," Ammons said.
There have only been 5 faithless electors in Washington State's entire history. In 1976, elector Mike Padden, who is currently a Republican state senator, voted for Ronald Reagan even though Gerald Ford carried the state. This prompted lawmakers to pass the law imposing civil penalties on Electors. Some legal experts don't believe state laws like this will ultimately stand up in court, and maybe unconstitutional.
Earlier this month, two Democratic Washington state electors, Bret Chiafalo and Levi Guerra, filed a lawsuit seeking to avoid fines if they ignore the results of the state's popular vote. They argued forcing electors to vote for a particular candidate is a violation of their free-speech rights. U.S. District Judge James L. Robart said the lawsuit was "too speculative" at the time. However, now that Washington State appears to be willing to impose penalties, the Electors could file another lawsuit or take additional legal action.
"We will defend the law, that's what we have to," Ammons said.
Have a tip we should know? [email protected]
Rachel Stockman - Editor in Chief / On Air Host