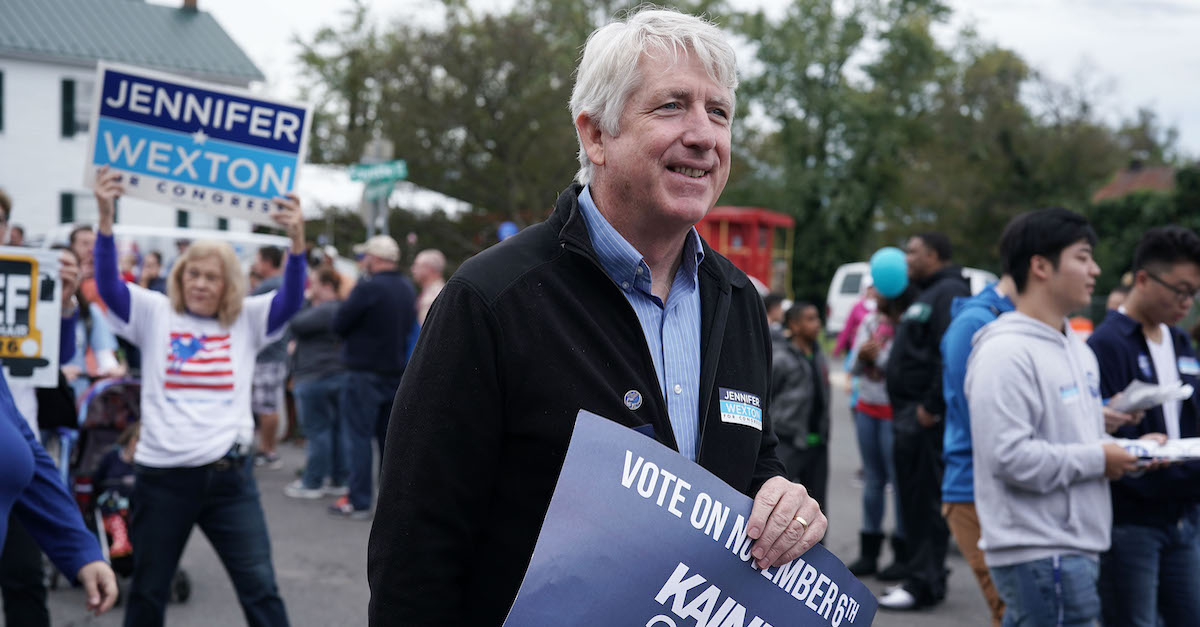 On the heels of the revelation of Democratic Virginia Gov. Ralph Northam's blackface-KKK yearbook photo and the sexual assault allegation made against Democratic Lt. Gov. Justin Fairfax, Virginia's top law enforcement officer, also a Democrat, has admitted to wearing blackface decades ago.
Attorney General Mark Herring expressed his regret that back in 1980, when he was 19, he wore blackface at party. He admitted that he "did not have an appreciation for the experiences and perspective of others," in a statement.
"In 1980, when I was a 19-year-old undergraduate in college, some friends suggested we attend a party dressed like rappers we listened to at the time, like Kurtis Blow, and perform a song. It sounds ridiculous even now writing it. But because of our ignorance and glib attitudes – and because we did not have an appreciation for the experiences and perspectives of others – we dressed up and put on wigs and brown makeup," he said. "In the days ahead, honest conversations and discussions will make it clear whether I can or should continue to serve as attorney general, but no matter where we go from here, I will say that from the bottom of my heart, I am deeply, deeply sorry for the pain that I cause with this revelation."
This latest news only adds to what was already a no good, very bad week for Democrats.
As Law&Crime reported Tuesday, the law firm that represented Brett Kavanaugh accuser Dr. Christine Blasey Ford months ago is now representing a California woman who has accused Justin Fairfax of sexual assault. The woman has been identified as Vanessa Tyson.
Fairfax, who would be the next person up if Northam were to resign over a controversy of his own, has denied that he sexually assaulted Tyson. He did admit, however, that they had sexual contact.
Just as with the Northam story, the conservative and pro-Trump website Big League Politics was first to the Fairfax allegation, and identified the woman by name. There were photos of Tyson and a screenshot of a text she sent a friend.
It said:
Imagine you were sexually assaulted during the DNC Convention in Boston in 2004 by a campaign staffer. You spend the next 13 years trying to forget it ever happened. Until one day you find out he's the Democratic candidate for statewide office in a state some 3,000 miles awayy, and he wins that election in November 2017. Then by strange, horrible luck, it seems increasingly likely that he'll get a VERY BIG promotion.
As we noted, Tyson, from California, is "some 3,000 miles away" from Virginia; Fairfax
won the lieutenant governor race
in Nov. 2017; strangely, a blackface-KKK photo in Virginia Gov. Ralph Northam's yearbook was exposed and Fairfax stands to benefit from it. Also, unlike in the Kavanaugh case, Tyson appears to be aligned with the same political party as the accused, and has been pictured alongside Speaker of the House
Nancy Pelosi
.
The Washington Post reported that Fairfax and Tyson met at the 2004 Democratic National Convention in Boston, and had a sexual encounter in his hotel room.
While the woman said Fairfax forced her to perform oral sex, Fairfax described the sexual contact as consensual. The Washington Post also said that it didn't find "significant red flags and inconsistencies within the allegations," as Fairfax claimed.
Fairfax reportedly has tried to discredit the claims against him by saying "fuck that bitch."
Justin Fairfax said "fuck that bitch" as he tried to discredit his accuser during a private meeting Monday night, sources tell @NBCNews' @GeoffRBennett and me.

— Jonathan Allen (@jonallendc) February 6, 2019
Northam, meanwhile, has resisted all calls for his resignation. His plan to hire a private detective to investigate the racist photo that appeared in his medical school yearbook was roundly mocked. After initially apologizing for the photo, Northam said he didn't believe he was in the photo.
[Image via Alex Wong/Getty Images]
Have a tip we should know? [email protected]