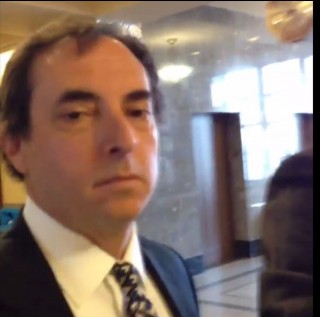 There was a dramatic twist in the Erin Andrews $75 million civil case against a Marriott in Nashville, and her stalker. We are learning about new allegations that Neal Peskind, a representative of the corporation that owns the Nashville hotel, watched the naked video of Andrews after he testified in the civil trial on Monday.  Andrews sued the man who took the video through a peephole of her hotel room. She's also made a claim against the Marriott where it happened. Peskind served as a witness in the case. The latest development came to light because a bartender at the restaurant where he dined took to twitter to express her apparent outrage.
"He said it was costing him millions so he was going to show it to everyone. His friends were making fun of her body," the bartender wrote on Twitter, according to WSVM, "We had to ask him to stop. It was disgusting and horrifying."
Reporters confronted Mr. Peskind outside of court: "Do you have any comments? Any comments? Is that true? We have sources that tell us that you were showing the nude video to people in the restaurant last night is that true?" He briskly walked away.
WATCH video of the confrontation posted on twitter by WSMV reporter Kevin Trager:
Neal Peskind responds to @WSMV questions about incident at local restaurant last night pic.twitter.com/Y1vxbxuZJq

— Kevin Trager (@KevinWSMV) March 2, 2016
Peskind later issued this statement to the Nashville television station:
I was at a private dinner meeting with friends. They brought up the allegations and they started viewing the video, I asked them to stop and while they did so, it was not as quickly as I had hoped. This incident has been blown into something it was not. I would never disrespect Ms. Andrews and what she has been through. This is a very unfortunate situation that should not be a reflection on West End Hotel Partners (owns the Nashville Marriott) or to our commitment to the issues in the case surround what happened to her. I sincerely apologize for my participation in what happened.
Unfortunately, Peskind — or we should say his friends — are not the only ones that have a renewed interest in viewing the invasive recording. The video is among the most searched terms on Google this week.  Andrews is suing the hotel for $75 million after the four minute video of her undressing was posted on the internet in 2008. She claims the hotel negligently told Michael David Barrett her room number so he was able to book a room next to her.  He later served time for stalking.
On the stand Monday, Peskind said that his company, West End Hotel Partners, hired another management company to oversee the day-to-day operations of the Marriott in Nashville. He said that company then hired an independent contractor and that West End was not responsible for the decisions made by them, according Channel 5 in Nashville.
Legal analysts say these latest allegations involving Peskind might not have a huge impact on the trial as it would be hard to introduce the details to the jurors. However, in the court of public opinion, this does not look good for the hotel group. We are following this trial closely on LawNewz.com, see here for live trial footage.
[h/t and screengrab via WSMV]
Have a tip we should know? [email protected]
Rachel Stockman - President / On Air Host