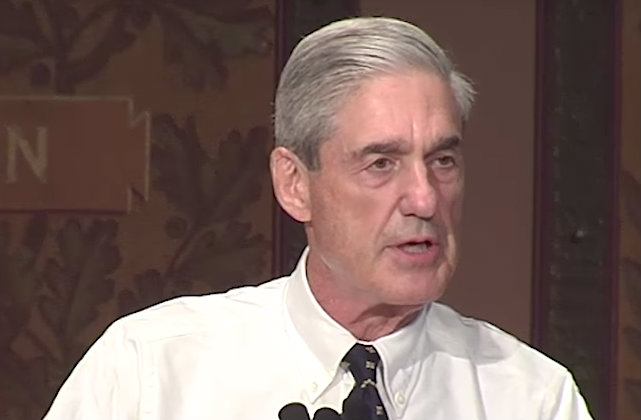 Nineteen days ago we predicted that President Donald Trump would fire special counsel Robert Mueller within 100 days. Now, we remain so convinced that we have even added a countdown clock to the homepage to track our prediction (81 days left). Why? Well, today news spread that Special Counsel Mueller has impaneled a grand jury in Washington to investigate possible ties between the Trump campaign and the Russian government. The Grand Jury has the power to compel documents, and force witnesses to testify. It's a very serious step and one that will undoubtedly infuriate Trump.
It is common knowledge that President Trump isn't happy with the Russia investigation.  After all, Trump has now referred to the special counsel investigation as a "witch hunt" at least a dozen times on Twitter. Even after his nominee for FBI Director Christopher Wray declared that he did not see it as a witch hunt (and many other Senators have defended the investigation and are now even seeking to protect it), Trump spokesperson Sarah Huckabee Sanders stood by the President's characterization. So what happened to the last guy who led the black hat and broom hunt into now confirmed Russian meddling in our election? Well that is, of course, the guy who Wray has been selected to replace. He was shown the front door.
Lets be clear, it was extraordinary for the President to fire the FBI director. In fact, James Comey was only the second-ever to be fired in U.S. history. The President undoubtedly had the authority to do it but despite coming under fire during the 2016 election, Comey was long viewed as a fixture, a sometimes controversial but even-handed, non-partisan and eminently qualified director who would never get fired.  Especially because of the ongoing Russia investigation. Except that is exactly what happened, and why it happened. The President admitted as much. 
Since then the "witch hunt" investigation into the Trump campaign and alleged collusion with the Kremlin has taken a decidedly more perilous and personal turn for the President. And that's exactly why we think it won't be long before Trump pulls the trigger and "Comeys" Mueller (no he probably can't technically fire him but he can certainly order it and make it happen). After all, as the campaign and his first few months in office prove, Trump puts his family above anything else. As information continues to seep out about the work that Mueller is doing and the subpoenas start coming, we believe the President will be increasingly frustrated and the administration will undoubtedly continue to seek to undermine Mueller's credibility. And lets be clear, by any objective standard Mueller is an unassailable, apolitical public servant (and a registered Republican).
Now, many are saying there is no way the administration would risk the fallout from having Mueller fired. Nixon's "Saturday Night Massacre" regularly invoked. But really? It seems no matter what this President does — no matter how out of the ordinary or mainstream — that his most ardent supporters in the public and the media continue to defend him. Most important is that now that many are questioning whether his son Donald Trump Jr. committed, at the least, an election law crime when he took a meeting with someone who he thought was working for the Russian government (and that President Trump helped craft a misleading statement about it). And, as investigators are now reportedly probing Jared Kushner's role in potentially helping to direct a Russian operation targeting voters with fake news about candidate Hillary Clinton, and as the specter of obstruction of justice in connection with firing Comey hangs over the President and his administration, we believe it now more likely than not that Trump will decide that Mueller must go.
Yes there would be major fallout both practically and politically but his fervent supporters would applaud the decision. We predicted some lower level justice department official would get promoted (after Deputy Attorney General Rod Rosenstein quits or is fired) and take responsibility for the decision. Among the reasons they will likely cite:
– Mueller's friendship with Comey (the ultimate in disingenuous circular reasoning)
– Some other yet to be discovered and invented bias on the part of Mueller and his team
– The cost of the investigation
– The need to focus on "more important" issues
This is not to say that Trump or anyone in his administration is guilty of any crime. That is for the Special Counsel to decide, unless of course, President Trump decides that it is not. And we predict that within 81 days that he will do just that. The countdown continues.
Have a tip we should know? [email protected]