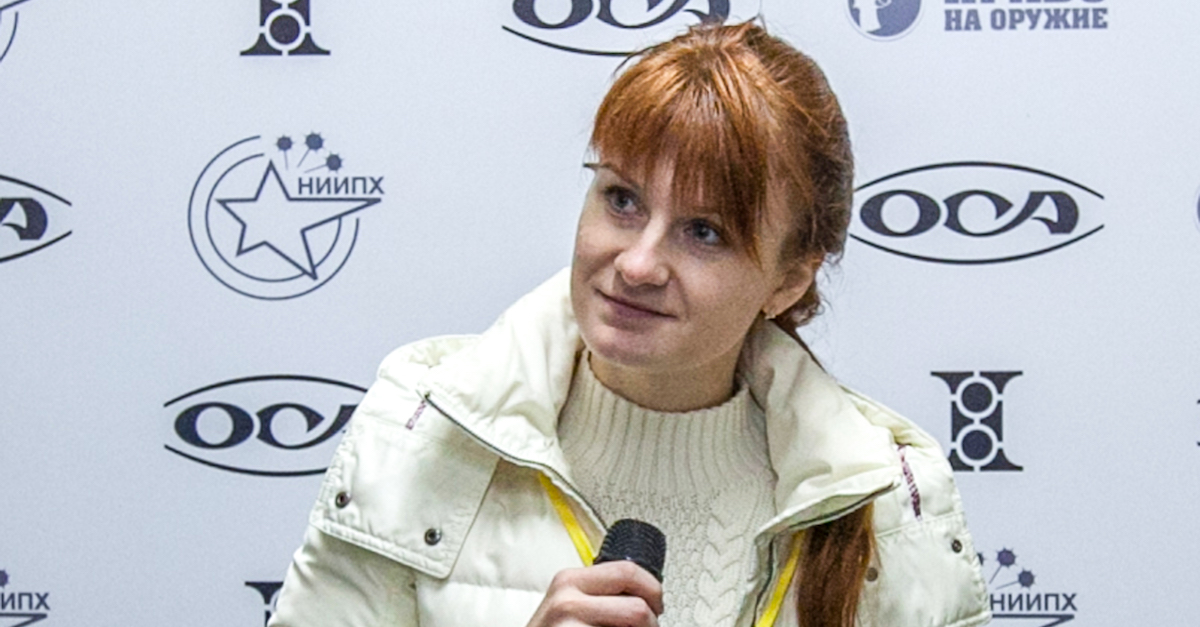 Russian national Maria Butina officially pleaded guilty on Thursday to one count of a conspiracy to act as a foreign agent as part of a plea deal that includes cooperation with the government. As Law&Crime reported earlier, days before this guilty plea occurred, an unexplained phone conference between Judge Tanya Chutkan, government prosecutors and Butina's lawyers was held. Soon after that, Chutkan entered an order appointing federal public defender for the District of Columbia A.J. Kramer as advisory counsel to Butina.
The sealed transcript of this phone conference from Dec. 6 has now been unsealed, and we now know what this was all about. The Thursday filing, which you can read in full below, showed that Butina's lawyer Robert Driscoll was concerned about a conflict for defense counsel and that he stated his case for why the judge should place this conference under seal for the time being.
Things definitely got off to a rocky start.
Driscoll (on why the conversation should be sealed): A couple reasons. First, the plea agreement has not been signed yet by our client, and while we're confident it will be signed either later today or tomorrow, in the event there was a snag that happened, the fact of her being willing to plead guilty to a count should not be public.

Judge: Why not? I mean, I have criminal cases before me every day where the parties put forth on the record that they're involved in plea negotiations, or they're close, or they have one but it hasn't been signed. That's not unusual. Why should I place that information under seal in this case, especially when you're the only party requesting it?

Driscoll: Leaving that aside, Your Honor, I think the main reason this issue came up is that there is a potential conflict issue that the government has raised regarding defense counsel which we need the Court's advice on in terms of —

Judge: Wait, wait. I asked you a question, Mr. Driscoll. You can't put it aside. I have closed the courtroom, and I want you to tell me why I should close the courtroom and not open it to the general public as is required. So tell me why the fact that you have a plea agreement but have not yet signed it and are close to signing it should be confidential and placed under seal.
Judge Chutkan then said "Mr. Driscoll, I have to tell you, I'm a little perplexed." She explained why.
"In this case, you've filed several motions for transportation of your client to the U.S. Attorney's Office, and you asked that that information be placed under seal; and that was certainly appropriate, and the government joined in that request," she said. "And I placed those requests under seal because the possibility of a defendant's cooperation is always something that is very sensitive."
"Then you all filed a joint motion on the public docket saying that you were in plea negotiations which was, you know — that's out there. You all filed that on the public docket," she added. "So the fact that we're having — you know, I'm not trying to be coy or anything, but you already put that out there."
The judge heard Driscoll out when he cut to the chase.
"Your Honor, the plea is conditioned on the conflict issue that we're going to discuss," he said.
As Law&Crime reported earlier Thursday, Judge Chutkan revealed that the government had recordings of Butina carrying on a jail phone call with a journalist, a fact that raised questions as to whether the gag order on the case had been violated. This partially explained A.J. Kramer's appointment as advisory counsel to Butina.
Driscoll said that this jail call was a potential conflict "raised by the government." Driscoll said that, although the government didn't believe he violated a gag order, he was prepared to head this conflict off for a particular reason: to "make sure [Butina] was comfortable that her plea would be knowing and voluntary."
"[T]he government raised the concern to us; and we wanted to raise it with the Court so that there would be no question when the plea is entered that the plea is knowing and voluntary, and we wanted to kind of preemptively, if necessary, get Ms. Butina separate counsel briefly to advise her on her rights, to make sure that she got her constitutional right to conflict-free advice," Driscoll said.
Government lawyer Erik Kenerson agreed.
"I think Mr. Driscoll is correct about the conflicts issue," he said.
Kenerson went on to reference two parts of a potential conflict:
The basic nature of the potential conflict is that this Court, I think, issued in an order back in September regarding Local Rule 57.7. The government has some jail calls from Ms. Butina in which she is talking to a reporter numerous times on those calls. She makes some references on those calls to individuals who could be — we don't know that they're defense counsel, but shares first name with defense counsel potentially acting as go-between at a certain point. That's part one of the potential conflict.

…

Part two is of the same vein. It's not jail calls. It's inmates having reported that Ms. Butina had told other inmates to go talk to the media at the advice of her counsel. So a different factual basis, but it would be the same potential conflict.
In order to avoid a situation where Butina's guilty plea could be seen as not knowing and involuntary, Judge Chutkan offered to appoint an advisory counsel to ensure that it would be.
"I mean, I'm not sure there's a conflict, but I think this is probably the fastest way to resolve it. So I agree that I think, in this instance, it doesn't do any harm to have her get the advice," Driscoll said.
"I can get someone from Mr. Kramer's office. They're highly experienced over there," she said.
Then they got Mr. Kramer from Mr. Kramer's office.
Unsealed Maria Butina Transcript by Law&Crime on Scribd
[Image via STR/AFP/Getty Images]
Have a tip we should know? [email protected]