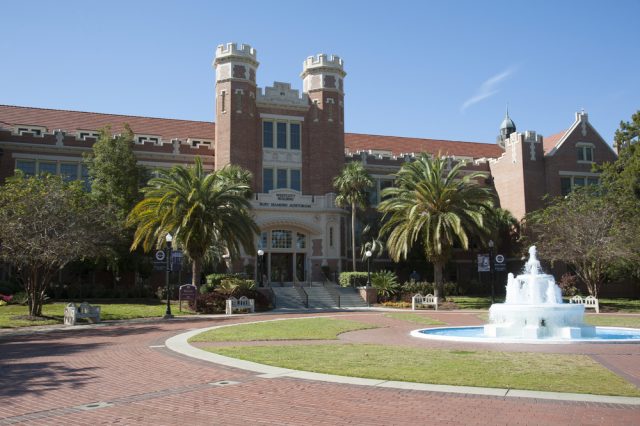 In the wake of one student's death after attending a fraternity party as a pledge and a member of another fraternity being arrested on allegations of selling cocaine, Florida State University has suspended all Greek life on campus indefinitely. University President John Thrasher announced the decision on Monday, citing a need for the school to reevaluate the roles that fraternities and sororities play.
"For this suspension to end, there will need to be a new normal for Greek Life at the university," Thrasher said in a statement. "There must be a new culture, and our students must be full participants in creating it."
This comes three days after Andrew Coffey died after going to a Pi Kappa Phi fraternity party, and Phi Delta Theta member Garrett John Marcy was arrested in an unrelated matter.
In addition to suspending Greek organizations, more than 700 other student groups will see changes, as alcohol will be banned at all events held by Recognized Student Organizations.
Thrasher said the duration of the suspension is up to the students. "They must work with us and demonstrate they fully understand the serious obligation they have to exercise responsible conduct," he stated.
While the suspension is in effect, sorority and fraternity members will be allowed to continue living in their houses and get meal service, but they will not be able to hold events for new members, chapter meetings or events, or have any organized participation in Homecoming.
Florida State is just the latest university to suspend Greek life this year. Penn State University did the same after the death of Timothy Piazza at a Beta Theta Pi pledge event. Louisiana State University instituted a one-month ban on fraternities and sororities with an ongoing prohibition of alcohol at their parties after Phi Delta Theta pledge Maxwell Gruver died.
[Image via Shutterstock]
Have a tip we should know? [email protected]