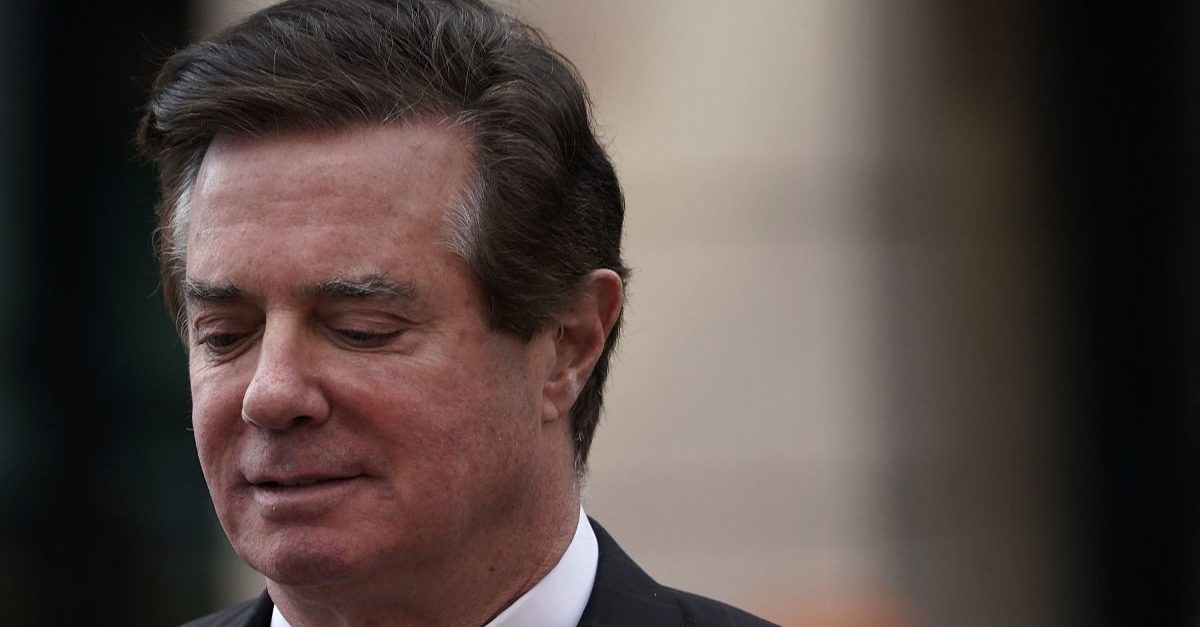 Two apparently forged documents could spell a mountain of trouble for Paul Manafort going forward.
During his trial in the Eastern District of Virginia (EDVA) on Wednesday, multiple vendors took center stage as they were asked about their business relationships with Manafort and the myriad business entities he used to facilitate payments for non-business purposes.
After establishing the basic facts of those relationships, Mueller's team plowed through and pored over as many documents as Judge T.S. Ellis III would allow in order to show various international wire transfers initiated by those entities to cover the costs of Manafort's jet-set lifestyle.
The first vendor up was Maximillian Katzman, son of Alan Katzman, the namesake and proprietor of high-end, customized apparel brand Alan Couture, which is located in New York City just south of Central Park.
After rummaging through multiple government exhibits submitted and allowed into evidence, jurors and judge alike were treated to an apparently forged invoice for the bespoke men's fashion brand.
The first page of said invoice was a jumble of Cyrillic no one attempted to make sense of in the courtroom. On the second page, was an admittedly poor attempt to imitate Alan Couture's standard form for billing purposes.
Three obvious stand-outs here were noted and confirmed by the judge, the prosecution and the witness himself: (1) the company's name was misspelled and off by one letter–instead of "Alan Couture" the form read "Alan Corture"; (2) the company's zip code was wrong; and (3) Katzman had no recollection of the purported client. He said, "[We've] never had a client named 'Global Endeavor.'"
As for the import of this suspicious invoice? The defense actually teed this one up.
On cross-examination, Katzman was asked if he ever met former co-defendant and current cooperating witness Rick Gates. Katzman said he had not, though earlier Katzman did note that he occasionally emailed Gates regarding "financial matters" like delinquent payment questions. Defense attorney Jay Nanavati then made the logic plain by asking, "Are you familiar with Rick Gates' education or spelling ability." Tucked behind some combination of confusion and a chuckle, Katzman replied with a simple, "No."
That wasn't the only bizarre documentation ringed by Cyrillic. Essentially the same thing happened with the prosecution's seventh witness of the day.
Stephen Jacobson, a recently-retired contractor and former owner of SP&C Home Improvement, took the stand as another hoped for testament to Manafort's alleged use of business entities to hide large amounts of income.
Jacobson's company engaged in multiple projects on Manafort's properties in the Hamptons and New York City over the years. Over the course of one five-year period, Jacobson's company billed Manafort in excess of $3 million for work done. Most of these payments were made via international wire transfers, which Jacobson later speculated was probably why his business bank accounts were eventually closed without a reason given by the bank.
Then came an apparently forged invoice purporting to have been sent by SP&C. This invoice was also addressed to Global Endeavor–same as before–but Jacobson's recollection of any prior relationship with the company wasn't quite reliable. (On cross-examination, Jacobson stated that he wasn't aware of ever receiving any payments from the Grenadines, where Global Endeavor is located; on re-direct, however, prosecutors brought attention to one apparently genuine invoice satisfied by the company.)
Jacobson was crystal clear about a few things though: (1) he said it was clearly an attempt to mimic or fake his logo and/or his company's invoices; (2) he had no recollection of and didn't think he received the purported payment amount; and (3) the invoice listed "design and architecture" services–both of which his company has never performed.
The rub: each of the two likely forged invoices were obtained during the FBI's July raid on Manafort's Alexandria, Virginia residence.
[Image via Alex Wong/Getty Images]
Follow Colin Kalmbacher on Twitter: @colinkalmbacher
Have a tip we should know? [email protected]