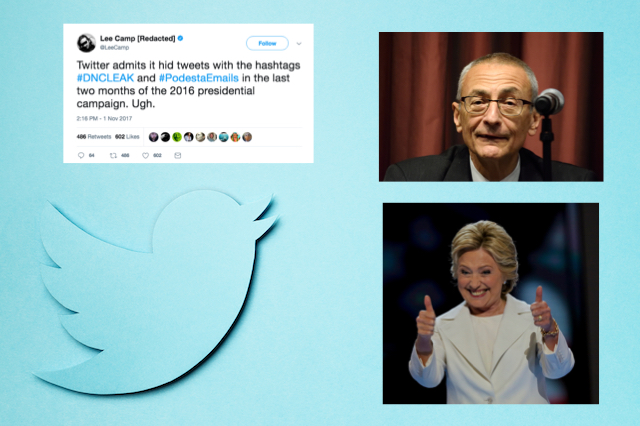 Twitter admittedly censored large amounts of information referencing Hillary Clinton campaign chairman John Podesta and leaked emails from the Democratic National Committee ("DNC") published prior to the 2016 presidential election.
In prepared testimony before the Senate Subcommittee on Crime and Terrorism delivered on October 31, Twitter's acting general counsel Sean J. Edgett acknowledged this large scale effort to hide political information by noting, "Before the election, we…took action on activity relating to hashtags that have since been reported as manifestations of efforts to interfere with the 2016 election."
Edgett made a point to reference Twitter's efforts to hide highly-sought after information related to the DNC. He wrote:
With respect to #DNCLeak, approximately 23,000 users posted around 140,000 unique Tweets with that hashtag in the relevant period. Of those Tweets, roughly 2% were from Russian-linked accounts. As noted above, our automated systems at the time detected, labeled, and hid just under half (48%) of all the original Tweets with #DNCLeak.
In total, Twitter is effectively admitting to have hidden roughly 64,000 tweets referencing the leaked DNC emails. The total number of tweets using #DNCLeak from "Russian-linked accounts" hidden by Twitter was less than 3,000. According to Edgett's testimony, this process was largely automated and done under the auspices of spam detection.
Edgett also referenced an even larger campaign to block thousands of references to Podesta. He wrote of that effort:
In the two months preceding the election, around 57,000 users posted approximately 426,000 unique Tweets containing variations of the #PodestaEmails hashtag. Approximately one quarter (25%) of those Tweets received internal tags from our automation detection systems that hid them from searches.
In sum, Twitter's censorship of Podesta-related information blocked users from viewing roughly 106,000 tweets with the #PodestaEmails hashtag. Edgett attributes Twitter's reasoning for hiding the Podesta-related tweets from Twitter users simply by reference to the source of their publication: Wikileaks.
Edgett's testimony continues, "The core of the hashtag was propagated by Wikileaks, whose account sent out a series of 118 original Tweets containing variants on the hashtag #PodestaEmails referencing the daily installments of the emails released on the Wikileaks website."
Wikileaks began publishing their series, "The Podesta Emails" in October 2016 and continued to release the documents until the November 8 election. The leaked DNC emails were published by Wikileaks on July 22, 2016–a few days prior to the beginning of the Democratic National Committee–as part of their "Hillary Leaks" series.
The release of the DNC emails is attributed to the resignation of former DNC chair Debbie Wasserman-Schultz–due to allegations that she and other allies of Hillary Clinton "rigged" the 2016 Democratic primary in Clinton's favor and to the detriment of independent socialist candidate Bernie Sanders.
Allegations of untoward behavior by the DNC resurfaced this morning after former DNC interim-chair Donna Brazile wrote a tell-all piece in Politico detailing the allegations of anti-Sanders collusion by top Democrats close to and including Hillary Clinton.
[image via Shutterstock.com/LawNewz]
Follow Colin Kalmbacher on Twitter: @colinkalmbacher
Have a tip we should know? [email protected]