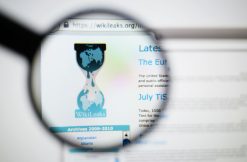 On Friday, WikiLeaks announced that they want an online database of verified Twitter users which apparently means collecting information on people's families, jobs, financial information, and housing.
Here's the announcement from the "WikiLeak Task Force," a verified account that describes itself as the official "support account" for the main WikiLeaks twitter page:
We are looking for clear discrete (father/shareholding/party membership) variables that can be put into our AI software. Other suggestions?

— WikiLeaks Task Force (@WLTaskForce) January 6, 2017
Turns out tweeting this plan on the actual Twitter didn't play well. People were displeased because, uh, it sounded a lot like doxing: publishing people's personal and identifying information online without their permission.
@WLTaskForce I think this plan is creepy, I think you're creepy and I hope someone breaks into your house and rearranges your sofa cushions.

— Ethan Lawrence (@EthanDLawrence) January 6, 2017
@EthanDLawrence @WLTaskForce It's full on creepy!

— Dori (@Bigwasp80) January 6, 2017
@WLTaskForce I'll save you the trouble. We all live in a mansion paid for by George Soros and we sleep in a big bed together w/ matching PJs

— Alex Q. Arbuckle (@alexqarbuckle) January 6, 2017
@WLTaskForce when you hack me and publish my data, can you please transfer me some money?

— Chris Reed (@Chrisreed619) January 6, 2017
Verified Twitter account encourages doxing and harassing other users' families through a huge panopticon database.
dat privacy. dat freedom. https://t.co/FY9fsD6Jwk

— SwiftOnSecurity (@SwiftOnSecurity) January 6, 2017
@graderguy @WLTaskForce @realDonaldTrump Their boss is Putin, they merely actively benefit Trump.

— Pete Forester (@pete_forester) January 6, 2017
Alex Griswold, a columnist at sister-site Mediaite, even sent in this.
So WikiLeaks is now:

1. opposed to leaks
2. in favor of mass data collectionhttps://t.co/6O0M9PhiUg

— Alex Griswold (@HashtagGriswold) January 6, 2017
To get ahead of the inevitable WikiLeaks database: my name is actually Alex Soros.

— Alex Griswold (@HashtagGriswold) January 6, 2017
It's unclear how this proposal would work in practice, so LawNewz.com reached out for comment. The account told a Vocativ reporter that they didn't want to dox anyone.
@WLTaskForce Hi. Can you clarify this? It reads like a threat to begin doxing people.

— Kevin Collier (@kevincollier) January 6, 2017
.@kevincollier No it is to develop a metric to understand influence networks based on proximity graphs.

— WikiLeaks Task Force (@WLTaskForce) January 6, 2017
Privacy concerns definitely fuels a lot of the blowback, but there's also bitterness at the group's alleged support for controversial President-elect Donald Trump. After all, they published emails from the personal account of John Podesta, chairman of Hillary Clinton's presidential run. This led to months of bad press for her, and it is an oft-cited factor for her loss. It doesn't help that the fact that the U.S. Government has accused Russia of supporting these hacks to influence the election.
Update – January 7, 10:55 p.m.: The main @WikiLeaks account is distancing itself from the Task Force.
Media note: @WikiLeaks is the only official account of WikiLeaks. No other accounts are authorized to make statements on @wikileaks behalf.

— WikiLeaks (@wikileaks) January 7, 2017
We've reached out to them for comment on their specific relationship to the Task Force, which has been verified by Twitter, and is still actually referenced on the @WikiLeaks profile as of Saturday.
[image via Gil C and Shutterstock]
Have a tip we should know? [email protected]