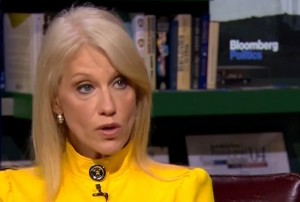 In a big shake-up and perhaps a last ditch effort to save his campaign, Donald Trump announced a major shift in his campaign team. Stephen Bannon, the head of Breitbart News, is now Trump's campaign chief executive, and Kellyanne Conway will take over as the campaign manager. But, it turns out Conway wasn't exactly always the biggest Donald Trump supporter. According to Federal Election Commission filings examined by LawNewz.com, in September, Conway maxed out her donations to Ted Cruz, donating $5,400 to Cruz for President. Records indicate that Conway's husband, George Conway, a lawyer, also maxed out his legally allowable donations to Cruz around the same period. According to filings to date, Conway has not donated any money to Donald Trump or his super PAC.
The news isn't entirely surprising as Conway was hired as a consultant in July after serving as President for a super PAC, Keep The Promise I,  that supported Sen. Cruz, and ran ads highly critical of Donald Trump.  Here are samplings of some of the ads run by Keep the Promise:
Conway has been the president of The Polling Company, Inc. since 2005. She is also an attorney who attended George Washington School of Law.
On to Victory. Thanks to everyone for your help and prayers. #MAGA. Donald J. Trump Announces Major Campaign Hires https://t.co/mURjp5piqW

— Kellyanne Conway (@KellyannePolls) August 17, 2016
Have a tip we should know? [email protected]
Rachel Stockman - Editor in Chief / On Air Host