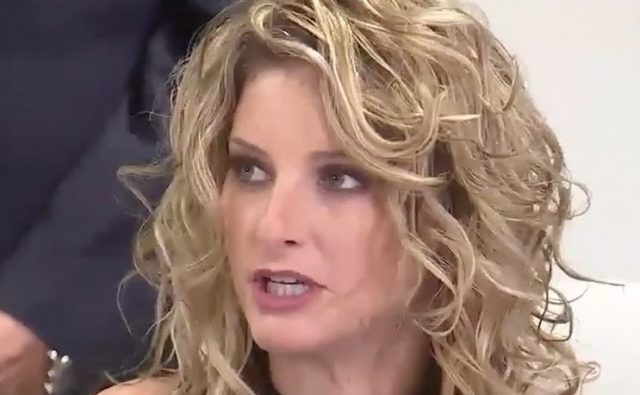 In January, days before Donald Trump took office, former Apprentice contestant Summer Zervos sued the President for defamation, over his response to her allegations of sexual assault. Monday night, Trump's attorney Marc Kasowitz stated in a court filing that he intends to argue that Trump is immune from litigation until he is out of office.
The filing requested that the court 1) grant Trump a 60-day extension to respond to Zervos' complaint (as of right now, he has until April 3 to file a response), and 2) create separate motion schedules so that the President can first argue that he shouldn't be subject to litigation in the first place. Should he lose that battle, then he would argue against the merits of the complaint.
Kasowitz wrote that "the United States Constitution, including the Supremacy Clause, immunizes President Trump from being sued in this action while he is in office," citing the landmark Clinton v. Jones as support. In that case, the Supreme Court said that courts have discretion in deciding whether civil cases against the President based on private acts from before taking office, and that various factors should be considered, including the President's schedule and ability to lead effectively during litigation, as well as the opposing party's interests in resolving the case sooner rather than later.
Ironically, in Clinton v. Jones the Supreme Court ultimately decided that the President should face litigation while in office. Both Clinton v. Jones and Zervos v. Trump involve allegations of a President's sexual misconduct prior to taking office. However, while the Jones case was about the sexual allegations themselves, the Zervos case only focuses on Trump's allegedly defamatory comments. Additionally, Kasowitz relies on a footnote in the Supreme Court's decision that says that "any direct control by a state court over the President, who has principal responsibility to ensure that [federal] laws are 'faithfully executed,'" may raise different issues. Because Zervos' case is in state court (Jones was started in federal court), Kasowitz claims the President is immune while in office.
Based on that argument, President Trump is looking for the court to either dismiss the case while allowing Zervos to refile after his presidency, or to put the case on hold until he is no longer President.
In response to the court filing, Gloria Allred, whose firm represents Zervos in this case, told LawNewz.com:
We do not believe that the President of the United States enjoys legal immunity from our defamation lawsuit. … The United States Supreme Court addressed this legal immunity issue in Clinton v. Jones and determined unanimously that no man is above the law and that includes the President of the United States.

We look forward to arguing this issue in court.
Zervos v Trump memo in support of application for order to show cause by LawNewz on Scribd
[Image via screengrab]
Have a tip we should know? [email protected]