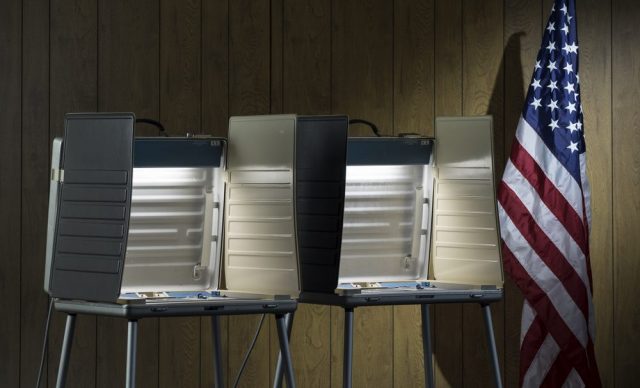 One of the four Democrats on President Donald Trump's 11-person voter fraud commission is suing the commission itself, claiming that they're not giving him access to information necessary for him to do his job. Maine Secretary of State Matthew Dunlap filed a complaint on Thursday alleging that the commission, headed by Vice President Mike Pence and Kansas Secretary of State Kris Kobach, doesn't fulfill the requirements of the Federal Advisory Committee Act.
"FACA requires, among others, two critical things," Dunlap's lawsuit says, "balance and transparency." He claims that the commission, officially titled the Presidential Advisory Commission on Election Integrity, fails on both counts.
While the commission does have bipartisan membership, Dunlap insists it falls short of being "fairly balanced."
Dunlap also gives examples of how he was kept in the dark regarding some of the commission's activities. For example, they had a meeting on July 19, 2017, and Dunlap claims that beforehand, he was given copies of the executive order establishing the commission, the commission's charter and by-laws, and a meeting agenda, but when the meeting convened, other members distributed other documents that he hadn't seen beforehand. The complaint cites court precedent in stating that not only should all members have had access to the documents in advance, the materials should have been made public.
Since that meeting, Dunlap claims, he "was not asked to assist in any voting-related work nor was he involved with any fact gathering or analysis." Before the next meeting in September, he was not asked for input regarding the agenda, topics, or participants, the complaint says.
In October and November, Dunlap requested records of communications between commissioners that would give him insight into the activities and decisions from which he had allegedly been kept from. According to the lawsuit, he has still not received anything. He's not the only one who the commission is allegedly ignoring, though.
"In addition to freezing Secretary Dunlap out from all substantive Commission activities and information, Defendants have refused to answer repeated inquiries from members of Congress regarding the Commission's activities," the complaint says.
All this, the complaint says, comes despite the commission's bylaws stating that the "Commission has voluntarily agreed to operate in accordance with the Federal Advisory Committee Act." President Trump is also quoted in the complaint as saying after the July 19 meeting that the commission's operations "will be a very transparent process. It's going to be very open for everybody to see."
LawNewz.com has reached out to Sec. Kobach and the White House for comment.
Dunlap Complaint by LawNewz on Scribd
[Image via Burlingham/Shutterstock]
Have a tip we should know? [email protected]