A reporter who tweeted a picture of herself in the White House is suing a fellow journalist for defamation, claiming that she falsely accused her of making a "white power" hand signal in the photo. Writer Cassandra Fairbanks of BigLeaguePolitics.com is accusing Fusion's Emma Roller of posting a tweet (which has since been deleted), commenting on a picture that Fairbanks posted of herself and another individual in the White House displaying the "OK" sign. Roller's post captions the image by saying, "just two people doing a white power hand gesture in the White House." Roller was apparently claiming that "OK" gesture doubled as a sign for white supremacists.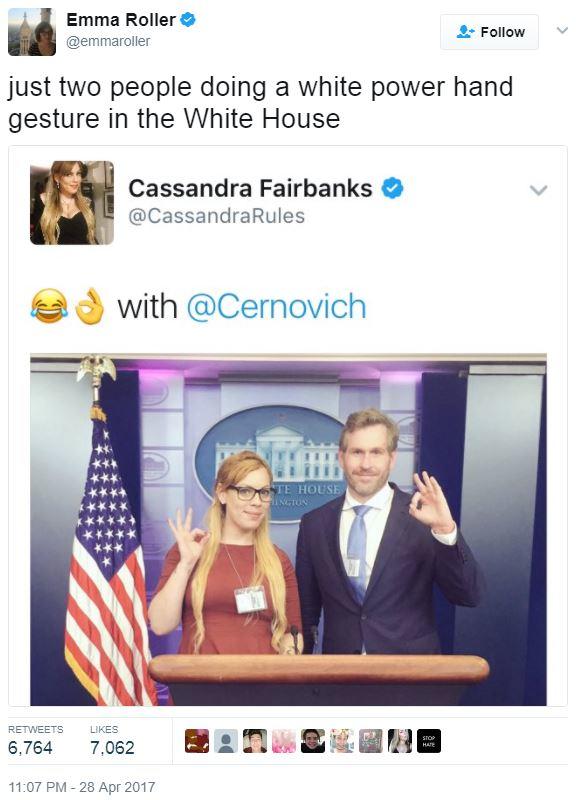 The complaint, filed by attorney Robert Barnes (a LawNewz contributor) adds that on the same day as that tweet, Roller claimed that the Anti-Defamation League (ADL) had said that the gesture was related to white power. In the days after Roller's post, the complaint says, the tweet was shared thousands of times and the story of Fairbanks making a white power sign in the White House spread across the internet, including being picked up by Yahoo, The Independent, and Fox News.
Since then, the complaint says, the ADL stated that the gesture Fairbanks used is not a white power signal, and that the nefarious meaning behind the gesture is a "hoax." Still, Fairbanks' lawsuit says, Roller didn't retract her comment or remove her tweet until right before the lawsuit was filed.
The lawsuit alleges that with the tweet, Roller "insinuated that the Plaintiff held white supremacist beliefs," and damaged Fairbanks' professional and personal reputation and business opportunities. Fairbanks claims that Roller either knew that what she said was false, or acted "with reckless disregard as to its truth."
In the complaint, Barnes writes that Fairbanks supported President Donald Trump in the election, after previously supporting Bernie Sanders. He also says that far from being a white nationalist, Fairbanks is "a long-time civil rights
writer, journalist, and advocate," who has supported "a wide range of citizens, including women and African-Americans."
"The First Amendment has never been a license to lie about others just because those other voices are dissident voices against the elites of their day," Barnes said in a statement to LawNewz.com. "This suit is about equalizing the playing field so the First Amendment protects everyone seeking truth and immunizes no one trading in censorship-through-shaming, which is what Emma Roller tried to do against Cassandra Fairbanks."
The lawsuit seeks at least $100,000 in damages, and makes claims of libel, false light invasion of privacy, intentional infliction of emotional harm, and negligent infliction of emotional distress.
Fusion's Editor-in-Chief, Dodai Stewart, said in a statement on the matter:
Our reporter Emma Roller has not actually been served, but the complaint provided to us by Buzzfeed is clearly frivolous. This suit is an obvious publicity stunt and an attempt to intimidate reporters who scrutinize the activities of the extreme right. We fully support Emma and will defend her.
Complaint – Fairbanks v. Roller (1 June 2017)_Redacted by LawNewz on Scribd
Note: This article has been updated with a statement from attorney Robert Barnes.
[Image via Shutterstock]
Have a tip we should know? [email protected]