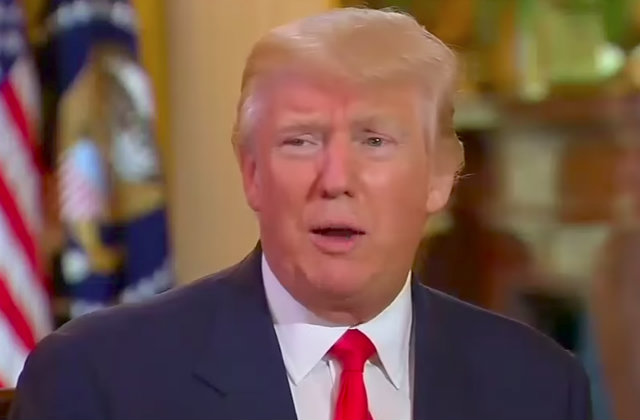 President Donald Trump's recent, uh, downsizing of FBI Director James Comey has made it harder to fill Department of Justice positions, a new report claims. Sources told POLITICO that the administration's scandals have frightened attorneys from pursuing government work. This had reduced the pool of qualified and willing people for jobs like U.S. attorney.
"You always see the same names coming back," said lawyer Paul Rosenzweig, former Department of Homeland Security official under President George W. Bush. "I look around at people considering going into the Trump administration and the same names come up for every open job…It's the same six names for every open job—the people who are both qualified and willing to serve." He was later asked about the recent developments in searching for a new FBI Director. "It certainly doesn't help when the stated basis for firing your predecessor is that he was a 'nut job.'"
Trump fired Comey on May 9. In his Dear Jim letter, he cited the recommendation of Attorney General Jeff Sessions and Deputy AG Rod Rosenstein, but later claimed he made up his mind about it before asking for their input. The president reportedly described Comey as a "nut job" when speaking to Russian officials. Rosenstein also faced public criticism and scrutiny over his apparent role in the decision.
The president promised to quickly find a replacement Director, but the reported front-runner, former Senator Joe Lieberman, dropped out, citing the appointment of Marc E. Kasowitz as outside counsel to represent Trump in ongoing Russia investigations. Both men work for the same law firm.
Also, after Trump cleared out Obama-nominated U.S. Attorneys in March, he has 93 such positions to fill. Trump hasn't announced any nominee for spots, but officials have reportedly said these are in the final stages.
A GOP lawyer who worked for the second President Bush spoke to the outlet on conditions of anonymity.
"They were dealing with a pool that had already shrunk and, now, of course, some people will be avoiding it like the plague," this person said. "The lesser-known folks are wondering if they're going to take a huge reputational hit if the president of the United States starts tweeting about them. … There's definitely some poisoning of the well going on in terms of who would take a job at this point."
The administration reportedly already had trouble filling positions after potential employees signed "Never Trump" pledges during the campaign. Still others weren't considered for jobs because of anti-Trump comments they had made.
A Trump adviser who spoke on condition of anonymity said it's obvious that top positions would only attract few people.
"You're talking about very high level jobs," this person said. "All these jobs are very high level jobs. The bottom line is there's a small universe of people who are eligible and so naturally you are going to see repeat names appearing."
The individual also said the president's public comments haven't scared away potential applicants: "I don't get the impression that's the case….I think: no."
LawNewz.com reached out to the White House for comment.
Trump told Fox News in February that he wants to leave vacant many positions that'd require Senate-confirmation.
"A lot of those jobs, I don't want to appoint someone because they're unnecessary to have," he said. "In government, we have too many people."
[Screengrab via Fox News]
Have a tip we should know? [email protected]