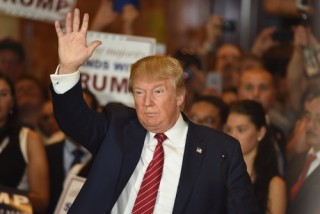 Donald Trump's campaign released a letter from his attorneys which he hopes will give more credence to his reason for refusing to release his tax returns. The letter says, in part, that Trump is the "sole or principal owner in approximately 500 separate entities. These entities are collectively referred to and do business as the the Trump Organization." The letter says that because of the complexities of these organizations "your personal federal income tax returns are inordinately large and complex for an individual."
Here's the kicker, the letter says "your personal returns have been under continuous examination by the Internal Revenue Service since 2002, consistent with the IRS's practice for large and complex businesses." From the start, Trump has refused to release his tax returns because he claims he is under an IRS audit. Legally, he can still release them but, as it turns out, most tax experts we consulted would advise their clients not to release them. Why? IRS agents could be swayed by public opinion to take adverse action, or compromise the investigation.
"Legally, he can release them, I would not advise clients of mine to release any tax returns that are currently under audit," Rob Kovacev, a tax attorney at Steptoe & Johnson told LawNewz.com.
Trump's campaign released this letter, presumably to prove that this isn't just one of Donald's "claims" — that, in fact, he's telling the truth about being under an IRS audit. The one odd thing is that the letter is dated March 7, 2016 and was just released by his campaign on Wednesday night.
That said, the letter states that his tax returns from 2002 to 2008 have been administratively closed by the IRS. So technically, Trump could release his returns from back years, but the letter is careful to point out "the pending examinations are continuations of prior, closed examinations."
Have a tip we should know? [email protected]
Rachel Stockman - Editor in Chief / On Air Host