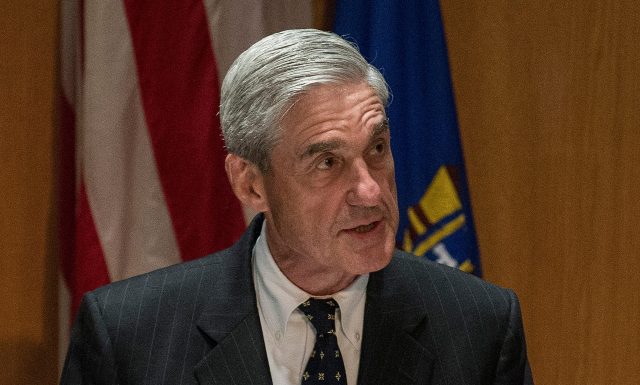 Lawyers for President Donald Trump indicated on Tuesday that they don't think the president should have to sit down for an interview with Special Counsel Robert Mueller's office … at least not yet. According to a CNN report, they believe that Trump, as president, should be afforded special treatment, specifically that he should only have to talk if it's the only way that Mueller can get the information he's seeking for his investigation of Trump campaign ties to Russia.
Mueller's office has reportedly provided Trump's legal team with a list of subjects he wants the president to discuss. Apparently, Trump's attorneys don't think this is enough, and are requiring Mueller to show cause for why Trump in particular is needed to discuss them.
The Trump legal team's strategy appears to be inspired by the 1994 investigation of former Secretary of Agriculture Mike Espy. During President Bill Clinton's administration, Espy resigned during a scandal involving gifts. He was later acquitted at trial, but an independent counsel's investigation of the matter could have an impact on Mueller's investigation of the Trump campaign.
Throughout investigations by Mueller and Congressional committees, Trump associates from Attorney General Jeff Sessions to former aide Steve Bannon have hidden behind executive privilege in refusing to answer questions regarding their communications with the president. Now, it appears that Trump's lawyers are looking to use that same privilege to prevent the president from answering Mueller's questions. An appellate court decision in the Espy case bears a striking resemblance to Trump's lawyers' reported desire for Mueller's investigation to meet a high standard before questioning the president.
The opinion in the Espy case, written by Judge Patricia M. Wald, addressed issues of executive privilege, including how an investigation might get around it. She wrote that such an investigation must "specifically demonstrate why it is likely that evidence contained in presidential communications is important to the ongoing grand jury investigation and why this evidence is not available from another source."
It looks like Trump's attorneys are using that very opinion to force Mueller to work harder if he wants to get the president to talk.
President Trump has recently said that he was willing, even "looking forward" to sitting down to talk with Mueller's team, but he qualified this by saying this was "subject to my lawyers." Now, it looks like the interview may not happen, at least not for a while.
[Image via Andrew Burton/Getty Images]
Note: This article has been updated with further discussion of the Espy case.
Have a tip we should know? [email protected]