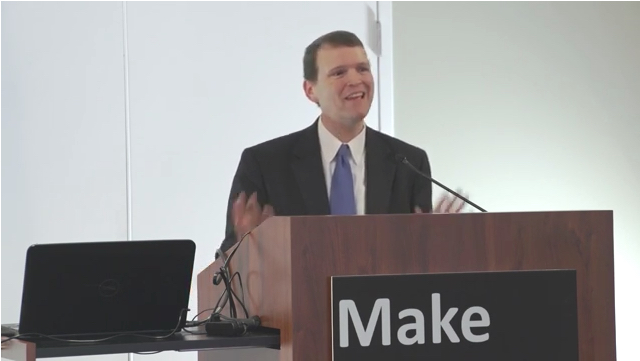 One of President Donald Trump's latest nominees for a federal judgeship described transgender children as proof of "Satan's plan," during a speech in 2015.
Jeff Mateer is currently the first assistant to Texas Attorney General Ken Paxton. Prior to that, Mateer worked as the general counsel and executive vice president at the First Liberty Institute, a conservative litigation firm where he delivered the speech in question.
Now nominated to fill a vacancy in the Eastern District of Texas, some of Mateer's statements from that speech, entitled "The Church and Homosexuality," are coming back to haunt him. The thrust of the speech was summed up by Mateer himself. He said, "The elephant in the room is homosexuality and the agenda that this small group is seeking and imposing on the rest of us."
Mateer used "The Church and Homosexuality" to bemoan how states are beginning to ban gay conversion therapy and warned that same-sex marriage would lead to polygamy, bestiality and other "disgusting" consequences. He also referenced the case of a transgender girl in Colorado whose parents sued their daughter's school district after she was not allowed to use the girls' restroom due to her assigned gender at birth. Mateer said:
Now, I submit to you, a parent of three children who are now young adults, a first-grader really knows what their sexual identity [is]? I mean it just really shows you how Satan's plan is working and the destruction that's going on.
Mateer also waxed conspiratorially as to why a purported spate of pro-equality lawsuits had made their way to Texas courts in recent years. He wondered out loud, "Almost like maybe they're setups. It just seems like there's more and more, unless every homosexual in the country is moving to North Texas, which maybe is a possibility. I don't know."
Advocacy organizations are appalled by Mateer's comments.
Chad Griffin, president of the Human Rights Campaign, said, referencing CNN's original story on Mateer's comments, "This is horrific. Someone who attacks children in this way has no place on the federal bench or in public office."
In a prepared statement, Sharon McGowan of Lambda Legal said:
The nomination of Jeff Mateer is the Trump administration's latest slap in the face with respect to the LGBT community. It's also another example of this administration's brazen crusade to stack our courts with extremists dedicated to dismantling rights and protections for the most vulnerable and marginalized groups in the country.
Mateer's nomination was originally suggested to president Trump by way of Texas Senators John Cornyn and Ted Cruz.
[image via screengrab]
Follow Colin Kalmbacher on Twitter: @colinkalmbacher
Have a tip we should know? [email protected]