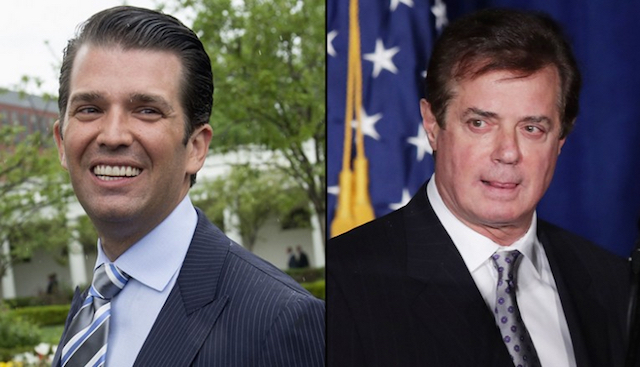 WASHINGTON (AP) — President Donald Trump's eldest son and his former campaign chairman won't testify publicly next week and are instead discussing being privately interviewed by a Senate committee investigating Russia's meddling in the 2016 election, the panel said.
The committee initially called for Donald Trump Jr. and Paul Manafort to appear publicly Wednesday. But the top Republican and Democrat on the Senate Judiciary Committee now say the men are negotiating the terms of their appearances, and lawmakers don't currently plan to issue subpoenas to force them to appear.
In a joint statement, Sens. Chuck Grassley, R-Iowa, and Dianne Feinstein, D-Calif., also said they are negotiating with Trump Jr. and Manafort about possibly turning over documents.
Both men face questions about attending a Trump Tower meeting with a Russian lawyer in June 2016 that was described to Trump Jr. in emails as part of a Russian government effort to help his father's campaign. Trump Jr. was told the lawyer had damaging information that could be used against Democrat Hillary Clinton.
Jared Kushner, Trump's son-in-law and top White House aide, also attended the meeting. He is scheduled to speak behind closed doors with the Senate intelligence committee Monday and with the House intelligence committee Tuesday.
The revelation of the Trump Tower meeting renewed questions about the Trump's campaign's possible connections with Russia and put some of Trump's inner circle at the forefront of ongoing federal and congressional probes.
Manafort spokesman Jason Maloni declined to comment on the committee's announcement. Trump Jr. attorney Alan Futerfas did not respond to several attempts by The Associated Press to contact him this week, including calls and emails Friday.
Also Friday, The Washington Post, citing anonymous U.S. officials, reported that the Russian ambassador to the U.S. has said he discussed election-related issues with U.S. Sen. Jeff Sessions when the two men met during the 2016 presidential race.
Trump responded to the report on Twitter on Saturday, complaining about "illegal leaks."
"A new INTELLIGENCE LEAK from the Amazon Washington Post,this time against A.G. Jeff Sessions," he tweeted. "These illegal leaks, like Comey's, must stop!"
The Post had cited anonymous U.S. officials who described U.S. intelligence intercepts of Ambassador Sergey Kislyak's descriptions of his meetings with Sessions, who was then a foreign policy adviser to Trump and now serves as attorney general.
Department of Justice spokeswoman Sarah Isgur Flores said Sessions stands by his previous assertion that he never had conversations with Russian officials about any type of interference with the election.
Word of the negotiations with Trump Jr. and Manafort comes as the president's legal team evaluates potential conflicts of interest among members of special counsel Robert Mueller's investigative team, according to three people with knowledge of the matter. Mueller's probe into Russia's election meddling also appears likely to include some of the Trump family's business ties.
Attorney Jay Sekulow, a member of the president's external legal team, told The Associated Press on Thursday that the lawyers "will consistently evaluate the issue of conflicts and raise them in the appropriate venue."
Two of the people with knowledge of that process say those efforts include probing the political affiliations of Mueller's investigators and their past work history. The people insisted on anonymity because they were not authorized to discuss the matter publicly.
Trump himself has publicly challenged Mueller, declaring this week that the former FBI director would be crossing a line if he investigated the president's personal business ties.
The White House push against the special counsel's probe and the attempts to put the focus on potential conflicts with Mueller's team may well be an effort to distract from snowballing federal and congressional investigations into possible election-year coordination between Trump's campaign and Russia. While Trump has assailed the probes as a partisan "witch hunt," the investigations have increasingly ensnared his family and close advisers.
Since the 2016 Trump Tower meeting became public, Trump Jr. has faced tough questions from lawmakers about why he agreed to participate. He and his father have downplayed it as politics as usual, saying they believe most people would have taken the meeting to learn about damaging information on an opponent.
Manafort had attracted scrutiny for months from congressional committees and Mueller. The Associated Press reported in June that Mueller's probe has incorporated a long-standing federal investigation into Manafort's financial dealings. That investigation is scrutinizing political consulting work he did for a pro-Russian political party in Ukraine and the country's former president, Viktor Yanukovych.
Manafort has denied any wrongdoing related to his Ukrainian work, saying through a spokesman that it "was totally open and appropriate."
Manafort also recently registered with the Justice Department as a foreign agent for parts of Ukrainian work that occurred in Washington. The filing under the Foreign Agents Registration Act came retroactively, a tacit acknowledgement that he operated in Washington in violation of the federal transparency law.
That law was scheduled to be the topic of the Senate Judiciary Committee hearing in which he was called to appear.
The committee also is looking at the work of Glenn Simpson, a political operative who was involved in the compilation of a dossier of unsubstantiated and sometimes salacious information about Trump and his associates and their interactions with Russians.
Grassley and Feinstein said Friday that they have issued a subpoena for Simpson to appear before the committee next week.
Trump has accused former FBI Director James Comey of having leaked classified information to the media. A close friend of Comey's has disputed that.
[image via screengrab]
Have a tip we should know? [email protected]