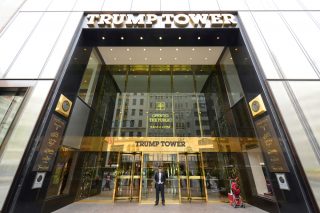 WEST PALM BEACH, Fla. (AP) — A Florida golf course owned by President Donald Trump must immediately repay $5.7 million to 65 former members who had been denied membership refunds after he bought the club in 2012, a federal judge ruled Wednesday.
District Judge Kenneth Marra ruled that Trump National Golf Club in Jupiter violated contracts the members had signed with the previous owner, Ritz-Carlton. The average payment will be about $87,000 if the ruling is upheld.
Attorneys for the members did not immediately return a call for comment Wednesday.
The Trump Organization vowed to appeal, saying in a statement that "We respectfully disagree with the Court's decision."
"At the time Trump purchased the Club, it was suffering financially, making it unlikely that these members would ever get back their deposits," the organization said.
The 65 were on a resignation waiting list when Trump bought the club for $5 million in 2012. Testimony last summer showed Trump got a below-market price for the club by agreeing to be on the hook for potentially $41 million in refundable membership deposits. Also, the contracts the members signed with Ritz-Carlton stated that if that company sold the club, the new owner would be responsible for any refundable deposits that were due.
Under Ritz-Carlton, the members had a complicated resignation procedure that could take 10 years to complete. First, resigning members had to request to be added to a waiting list in their membership classification. After every fifth membership Ritz-Carlton sold in one classification, the person at the top of that resignation list would get their deposit refunded and be removed from the club rolls. Meanwhile, members on the waiting list were still obligated to pay dues of $8,000 to $20,000 per year plus a $1,800 food and beverage fee. As they waited, they would still have access to the club.
Shortly after Trump bought the club in November 2012, he called a membership meeting and told members on the resignation lists that if they didn't rescind their notice, they would no longer be allowed club access starting Jan. 1, 2013. Two months later, he added that they would still be expected to pay dues until they reached the top of the resignation list. The members said that by cutting off their access, Trump owed them their deposits within 30 days, citing a clause in their Ritz-Carlton contracts. When his company refused, they sued.
During testimony, the president's son Eric Trump, who oversaw the club's operation, conceded that paying dues without having access to the club "would violate a fundamental principle of life."
Marra, who was appointed to the bench by President George W. Bush in 2002, used a footnote to apologize for not calling Trump by his new title in his ruling.
"At all times relevant to this lawsuit, Donald J. Trump was a private citizen. As a result, the Court will refer to him as such in this decision. In doing so, the Court means no disrespect to him or to the esteemed position he now holds," Marra wrote.
This article was written by TERRY SPENCER, Associated Press.
Have a tip we should know? [email protected]