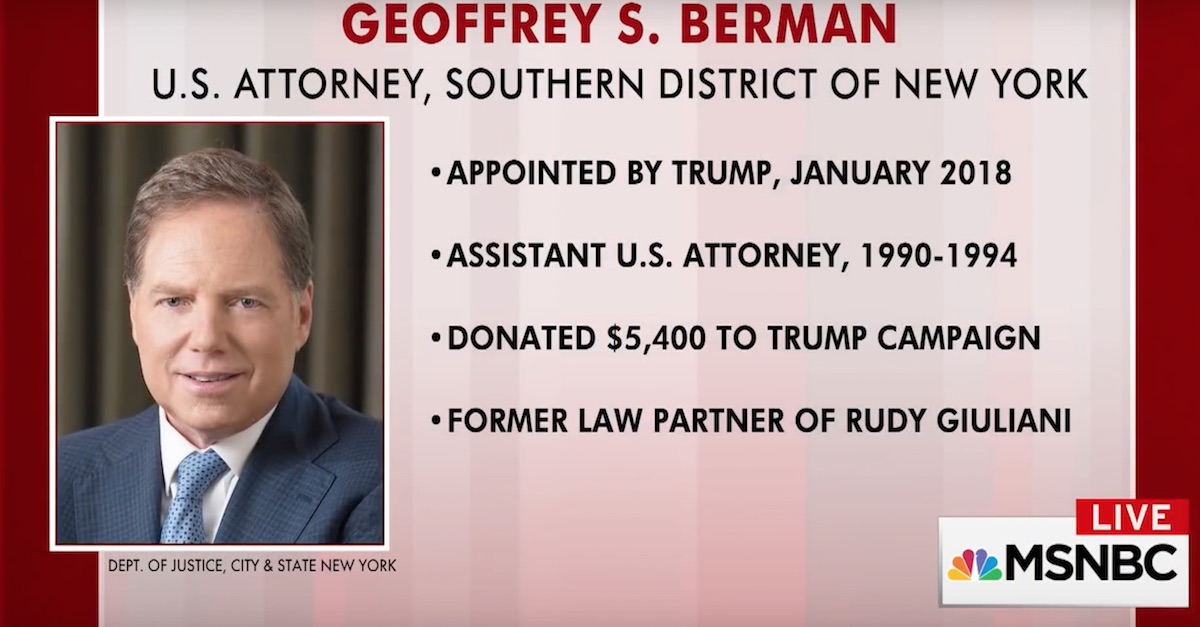 ABC News Chief White House Correspondent Jonathan Karl threw a little bit of a wrench into a media narrative after he reported Tuesday that U.S. Attorney for the Southern District of New York (SDNY) Geoffrey Berman, in the office behind the Monday raid of Donald Trump lawyer Michael Cohen's office, is recused from the Cohen investigation.
SCOOP: ABC News has learned Geoffrey Berman, the U.S. Attorney for the Southern District of New York, is recused from the Michael Cohen investigation. He had no role in raid of Cohen's office. Another recusal that will make @realDonaldTrump unhappy.

— Jonathan Karl (@jonkarl) April 10, 2018
The revelation flies somewhat in the face of a narrative, pushed by former U.S. attorney Preet Bharara on CNN on Monday night, that the raid was executed by people who have "basically been handpicked" by Trump.
Former US Attorney Preet Bharara said the FBI raids of Michael Cohen's office and hotel room were done by officials who have "basically been handpicked" by President Trump https://t.co/UFEy4x786G pic.twitter.com/KKOLuUHE8R

— CNN (@CNN) April 10, 2018
Bharara, a former SDNY U.S. attorney himself replaced by Berman, has tweeted about the news, however, "That makes sense."
That makes sense https://t.co/IdzXHtsGBu

— Preet Bharara (@PreetBharara) April 10, 2018
Why does this matter? Many on social media took Trump-appointed, Republican Geoffrey Berman's supposed direct involvement as proof that "this is not a witch hunt."
Geoffrey Berman, the US Attorney who signed off on the Michael Cohen raid, is:

– a Trump appointee
– a Republican
– donated to Trump's campaign

So no, this is not a witch hunt.

— Denizcan James (@MrFilmkritik) April 9, 2018
Fun Fact #1 Geoffrey Berman, who was tapped to replace @PreetBharara (fired by @realDonaldTrump) signed the warrant. #Karma

Fun Fact #2 – Hillary's lawyer's office was NOT raided today

Fun Fact #3 – Obama's lawyer's office wasn't raided either#LockThemUp

— Zoe "uʍop ǝpısdn" Washburne (@DeepInTheHills) April 10, 2018
You realize that Mueller is not conducting this investigation….right? Geoffrey Berman is leading this investigation. Remember him? He's the one Trump appointed when he fired Preet Bharara. He is also a life long republican….but carry on

— Jon Selman (@AZCats11) April 9, 2018
.@realDonaldTrump Instead of crying about Sessions, Mueller & Rosenstein, you should be more worried that the evidence to justify the no-knock search warrant was so overwhelming that Geoffrey Berman, who YOU chose to replace US Attorney @PreetBharara, is the guy who acted on it. pic.twitter.com/WDDvBGgs2j

— Chet Powell (@ChetPowell) April 9, 2018
It also spread to MSNBC's Morning Joe.
Karl, citing two sources familiar with the raid, reported that Berman was not involved in the decision-making about the raid because he is recused, with the approval of Deputy Attorney General Rod Rosenstein.
A sourced briefed on the matter says the Berman recusal was approved by … Rod Rosenstein https://t.co/V0LNk3fVGq

— Jonathan Karl (@jonkarl) April 10, 2018
It was not specified who else in the SDNY office handled the raid in Berman's stead.
What we do know is that federal prosecutors, in part on a referral from Robert Mueller, executed a search warrant at Cohen's office on Monday and, as part of the search, the FBI seized "privileged communications between […] Michael Cohen, and his clients," this according to Cohen's attorney Stephen Ryan.
"I have been advised by federal prosecutors that the New York action is, in part, a referral by the Office of Special Counsel, Robert Mueller," Ryan said.
Tax documents, business records and emails are reportedly being looked at, as well as records related to Stormy Daniels.
We also know President Trump was not pleased with the news, saying that it's both proof that "attorney-client privilege is dead" and that a "total" witch hunt is afoot.
Attorney–client privilege is dead!

— Donald J. Trump (@realDonaldTrump) April 10, 2018
A TOTAL WITCH HUNT!!!

— Donald J. Trump (@realDonaldTrump) April 10, 2018
[Image via MSNBC screengrab]
Have a tip we should know? [email protected]