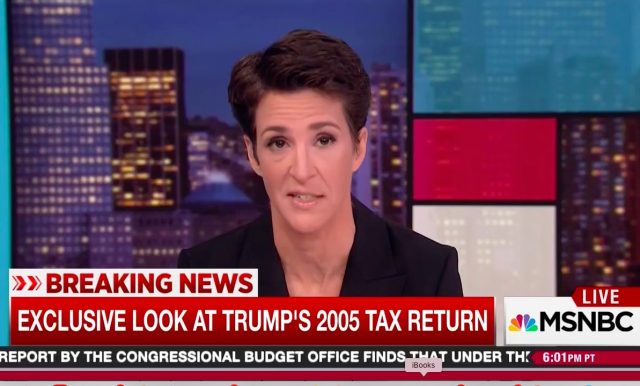 During her primetime show, MSNBC's Rachel Maddow released a 2-page copy of Trump's tax returns. They show in 2005, he paid $38 million in taxes, and made about $150 million dollars.
Even before the show aired, through a White House statement, President Donald Trump fired back. The White House claimed that the entire ratings "stunt" by Maddow was illegal.  "You know how desperate for ratings when you are willing to violate the law to push a story about two pages of tax returns from over a decade ago," the statement read.  The White House statement went on to accuse Maddow and David Cay Johnston, a specialist on tax issues who originally obtained the returns for DCreport.org, of illegally stealing and publishing the returns. Maddow claims the tax documents "turned up" in Johnston's mailbox a few days ago.
"For the record, the First Amendment gives us the right to publish this return, it is not illegally published," Maddow fired back on Tuesday night.
So, is that true?  Is it legal for MSNBC to air information about Trump's returns? Does the First Amendment protect Rachel Maddow? Or is Trump right, and did Maddow do something illegal?  Well, it is actually a little more complicated than both sides are willing to admit. If faced with legal action, MSNBC will likely assert a First Amendment claim, and they probably have a very strong defense, but it's not a sure thing. But, even more consequential, whoever leaked the documents could face prison time.
"Hard to believe someone risked prison time to release 2 pages of Trump's 1040. A 24% tax rate for a real estate mogul is reasonable and there's no evidence of anything improper or unusual. Trump is required to pay what he is legally required and not a penny more," Robert Kovacev, a tax attorney with Steptoe & Johnson explained to LawNewz.com.
Federal law does make it illegal for "any person" to publish an unauthorized tax return:
It shall be unlawful for any person to whom any return or return information (as defined in section 6103(b)) is disclosed in a manner unauthorized by this title thereafter willfully to print or publish in any manner not provided by law any such return or return information. Any violation of this paragraph shall be a felony punishable by a fine in any amount not exceeding $5,000, or imprisonment of not more than 5 years, or both, together with the costs of prosecution
"If released from the files of the IRS or a state tax agency by a government employee, this would be a felony," Kovacev explained to LawNewz.com.
According to 26 U.S. Code 6103, it is illegal for any officer of the government to release a person's tax information without authorization. There is a provision in the law that allows the government to disclose the taxes with the consent or authorization of the taxpayer. Obviously, in this case, we know Trump didn't give authorization.
As for any legal claim against MSNBC, Maddow, or DCreport.org, for the most part, they are allowed to print information they obtained so long as they didn't participate in anything illegal. In Bartnicki v. Vopper, the Supreme Court addressed this very issue. The Justices were assessing whether a radio personality could be held liable for playing illegally intercepted phone calls on the radio. The Court held the First Amendment protected the disclosure of the intercepted communications by parties who didn't participate in the illegal act.
"In this case, privacy concerns give way when balanced against the interest in publishing matters of public importance," wrote Justice John Paul Stevens. "[A] stranger's illegal conduct does not suffice to remove the First Amendment shield from speech about a matter of public concern." However, the rules aren't absolute. The tax case is a bit different because there is a specific federal law that prevents publishing tax information.
Despite the federal law, famous First Amendment expert Floyd Abrams told LawNewz.com, that he thinks it's highly unlikely that MSNBC would be held liable for publishing such newsworthy material about the President.
This is an opinion piece. The views expressed in this article are those of just the author.
Rachel Stockman - President / On Air Host