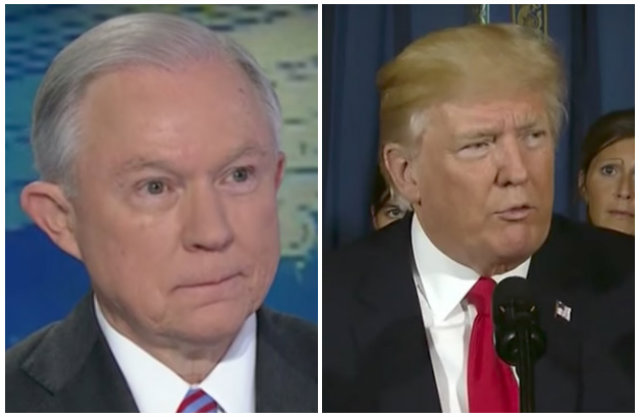 President Donald Trump chewed out Attorney General Jeff Sessions and told him to resign because of Robert Mueller's appointment to special counsel, The New York Times reported Thursday. Sources, which were described as "current and former administration officials and others briefed on the matter" told the outlet that Trump blamed Mueller's appointment on Session's decision to recuse himself from the FBI's investigation into Russia's election interference. The president reportedly insulted the AG, accusing him of "disloyalty."
Four people briefed on the meeting reportedly said that during this May meeting in the oval office, Sessions said he would quit, and later issued a resignation letter. Trump didn't accept it because senior administration officials told him that getting rid of Sessions would cause trouble for the administration, especially after the firing of National Security Adviser Michael Flynn and FBI Director James Comey.
According to sources, Sessions said Trump's comment was the most humiliating thing he'd had ever faced in public life.
Law Newz reached out to the Department of Justice for comment. Trump's and Session's relationship got a little sour this summer, after the president criticized his AG on twitter and a Times interview. Things seemed to have smoothed over recently, at least publicly speaking. At the very least, Trump hasn't taken shots at his top law enforcement officer on social media.
Special Counsel Mueller and several congressional committees are investigating Russian election interference in the 2016 election, and whether the Trump campaign colluded in cyberhacking efforts. The administration has denied allegations.
[Screengrab via CNN]
Have a tip we should know? [email protected]