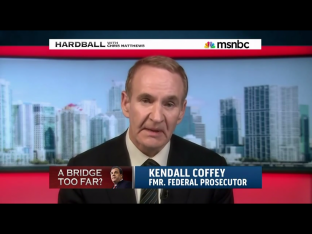 GOP presidential frontrunner Donald Trump's campaign issued a press release on Tuesday after police in Jupiter, Florida charged campaign manager Corey Lewandowski with simple battery for an incident earlier this month involving former Breitbart reporter Michelle Fields that became known as the "GrabGate" scandal.
Statement from Trump spokeswoman Hope Hicks on news about Corey Lewandowski pic.twitter.com/je8dBYh6DQ

— Ashley Killough (@KilloughCNN) March 29, 2016
As the press release notes, Lewandowski claims he is completely innocent and looks forwards to day his court where he will be represented by Miami attorney Kendall Coffey.  As it turns out, Coffey has his own troubled history with women.  According to an old news report in the New York Times, in 1996 Coffey resigned as the U.S. Attorney for the Southern District of Florida amidst allegations that he bit a stripper during a rowdy night at a Miami gentleman's club.  The report speculated that then-U.S. Attorney General Janet Reno and President Bill Clinton, who appointed Coffey to the position in 1993, likely forced Coffey out because they feared he would be a political liability during the Clinton reelection campaign.  Coffey had not denied the allegation at the time of the 1996 news report.
[h/t NY Times, screengrab via MSNBC]
Have a tip we should know? [email protected]