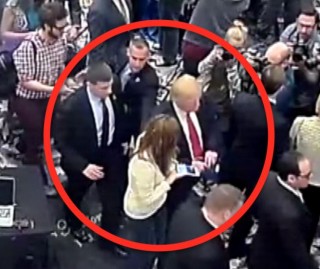 Almost as fast as news broke that Florida investigators were moving forward with their case against Donald Trump's campaign manager Corey Lewandowski, Trump fired back defending him, and promising to keep him on board — despite the pending misdemeanor battery charge against him.  Lewandowski is accused of grabbing a now former Breitbart.com reporter, Michelle Fields, at a campaign event on March 8. Trump's campaign spokesperson contends Lewandowski is 'absolutely innocent' of the charges. And it turns out, according to Florida criminal defense attorneys who spoke with LawNewz.com, Lewandowski might have a strong defense.
"I would say something like this is not normally charged. I was surprised to see the charges," Florida criminal defense attorney Brian Gabriel told LawNewz.com. Gabriel frequently represents cases in Jupiter, Florida, where the incident occurred.
First, Florida law says that misdemeanor battery includes:
1. Actually and intentionally touches or strikes another person against the will of the other; or

2. Intentionally causes bodily harm to another person.

(b) Except as provided in subsection (2), a person who commits battery commits a misdemeanor of the first degree, punishable as provided in s. 775.082 or s. 775.083.
To further their case, Jupiter, Florida police released new surveillance video which purports to show Lewandowski touching Fields:
Fields is in the white jacket, you can see her get very close to Republican front-runner Donald Trump when the incident occurs. Police contend, in their report, that "Fields is seen on the video, holding her phone up to Trump, appearing to ask him a question. Trump had looked in her direction, and then Lewandowski extended his left arm out, stepping between Trump and another male subject believed to be U.S. Secret Service. After extending his arm out, Lewandowski appeared to reach for Field's left arm with his left hand, allowing him to get closer to Fields."
Lewandowski plans to enter a not guilty plea.  That leads to the important question — what could Lewandowski's defense to the incident possibly be? The attorneys we checked in with all agree that one of his strongest defensed might be that he was acting  to defend Trump from harm at the hectic campaign event. In other words, defense of others.
"If he could prove a reasonable concern of the safety of someone else, that could be viable," attorney Gabriel told LawNewz.com. "What did (Trump's) team of people know at that exact moment — that could be different from what the general public knew."  Anything that happened to Mr. Trump as far as disturbances or other security concerns — could be raised to say that Trump's team  — including his campaign manager — acted reasonably when Lewandowski grabbed at the the reporter. There are indications that may be where the defense is going.
In fact, according to a Daily Mail article published on Tuesday afternoon, a Secret Service agent appears to confirm those concerns:
"..speaking on condition of anonymity, a member of Trump's Secret Service detail told DailyMail.com on Tuesday that Fields touched Trump twice – and was warned by agents to stop – before Lewandowski pulled her away."
Then there is this tweet by Trump himself:
Why is this reporter touching me as I leave news conference? What is in her hand?? pic.twitter.com/HQB8dl0fhn

— Donald J. Trump (@realDonaldTrump) March 29, 2016
"If Lewandowski reasonably feared that (Fields) was going to do something harmful and that he was forced to grab her arm because he worried that she would inflict harm on others or Donald Trump that could be a defense," Mark Eiglarsh, a Florida criminal defense attorney told LawNewz.com.
Other possible defenses to the crime: Lewandowski could deny that it was him who touched Fields. That's something he was initially claiming when the incident first happened. That would now be a tough one for him to prove because of the surveillance video evidence, and also the testimony of Washington Post reporter Ben Terris who said he saw the incident.
In addition, the statute requires the touching to be intentional — Lewandowski could make an argument that it was accidental. In one appellate case in Florida, the court found that there has to be substantial certainty of a touching or striking to satisfy the intent element of battery. In that case, there was not substantial certainty that a lighter, which the defendant threw to the floor, would bounce and hit the teacher.  Based on what we know right now, it seems his strongest defense would be the security concerns around the presidential candidate.
"The best option might be to work out out a plea deal assuming that (authorities) can prove he did it," attorney Eiglarsh told LawNewz.com,  "While he faces up to a year in jail,  I don't expect him to see the inside of the pokey, even in the worst case scenario."
 Florida criminal defense attorney Richard Hornsby speculates that this could all be dismissed before he has to enter a plea:
@danabrams @CLewandowski_ @law_newz Most likely scenario is State Attorney reviews case and dismisses it prior to arraignment.

— Richard Hornsby (@RichardHornsby) March 29, 2016
If Lewandowski does opt for a plea deal, first time offenders can be placed in diversion programs where they undergo anger management, and can eventually get the charges wiped from their records. It appears Trump has advised Lewandowski against taking any kind of plea deal. Trump contends that he will not abandon Corey and the video proves he did absolutely nothing wrong.
Have a tip we should know? [email protected]
Rachel Stockman - President / On Air Host