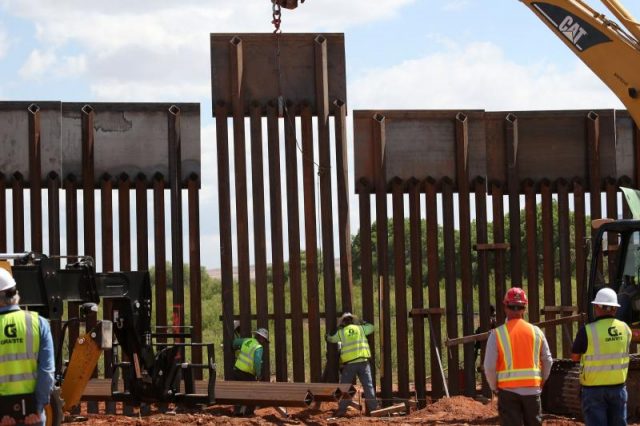 In response to a heap of backlash over his proposed DACA deal with Democrats, President Donald Trump went on the defensive over concerns he was breaking his promise to "build the wall" at the United States-Mexican border. On Tuesday, he tweeted:
The WALL, which is already under construction in the form of new renovation of old and existing fences and walls, will continue to be built.

— Donald J. Trump (@realDonaldTrump) September 14, 2017
But, here's the thing. What Trump is likely referring to is the ongoing construction at Arizona's Naco Port of Entry. It's true that crews installed the final border fence panel in May, and more road improvements are underway, but Trump is wrong to claim credit.
As the press release notes from U.S. Customs and Border Protection, "Plans for the replacement fencing began four years ago, and funding was approved last year as part of the 2016 fiscal budget. " In other words, the plans began in 2012 right after President Barack Obama was elected to his second term. It was an Obama administration initiative.
Brown University Professor Peter Andreas points out that Trump's border plans call for 1,000 miles of fence, but as it stands nearly 700 miles of border fending are already in place.
"In the end, Trump's wall is likely to be the latest addition to the border barrier-building frenzy first launched by President Bill Clinton, greatly expanded by George W. Bush and continued by Obama. But Trump will take full ownership of it as the only president willing to actually call it a wall,"  Andreas wrote in a Washington Post op-ed. So far, his January prediction appears to be coming true.
[image via CBP]
Have a tip we should know? [email protected]
Rachel Stockman - President / On Air Host