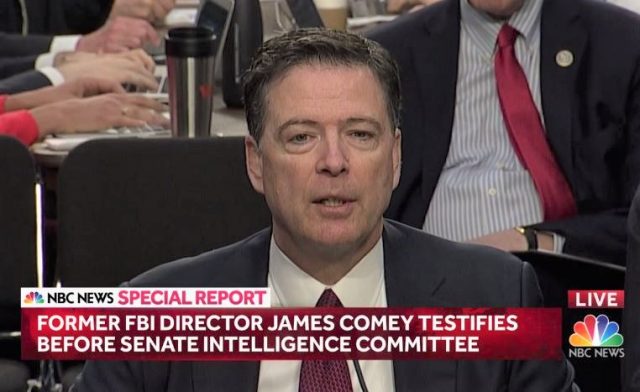 President Donald Trump's personal attorney, Marc Kasowitz, is reportedly looking to file a complaint with the Department of Justice's Inspector General as well as the Senate Judiciary Committee, hoping to initiate an investigation of former FBI Director James Comey's leak of conversations he had with Trump.
Comey admitted during Thursday's Senate hearing that he leaked a memo detailing his discussions with the President to a friend who teaches at Columbia Law School (Prof. Dan Richman has since confirmed that he was the friend), who then discussed it with The New York Times. Comey said he did this in order to set off a chain reaction that ultimately led to the DOJ appointing a special counsel to oversee the investigation of possible ties between the Trump campaign and Russia.
Kasowitz called the leak an "unauthorized disclosure of privileged information," but it's unclear if that's the case. A President does have an executive privilege to protect certain communications, but the Supreme Court said in United States v. Nixon that this privilege does not extend to covering up alleged misconduct.
While the President is so far not being accused of covering anything up, Comey did say that he was "sure" that special counsel Robert Mueller was looking into possible obstruction of justice. Comey also indicated that he took notes of his conversations with Trump because he was disturbed by some of the President's comments and wanted to keep a record of what happened. Specifically, Comey was concerned by Trump's alleged request to drop an investigation of Michael Flynn, and the President's alleged statement that he expected loyalty from him.
Keeping such records, however, could give Kasowitz another reason for investigating Comey's leak. Federal law, specifically 18 U.S.C. § 641, says it's a crime to sell or convey "any record, voucher, money, or thing of value of the United States or of any department or agency thereof, or any property made or being made under contract for the United States or any department or agency thereof[.]"
Comey's notes could potentially be viewed as government records, since he created them while serving as FBI Director—possibly on a government computer. However, Comey said that he intended for his memos to be his records as a private citizen, and not created in his capacity as a government official.
LawNewz.com reached out to Kasowitz for details regarding the complaint, but he has not responded at this time.
[Image via NBC screengrab]
Have a tip we should know? [email protected]