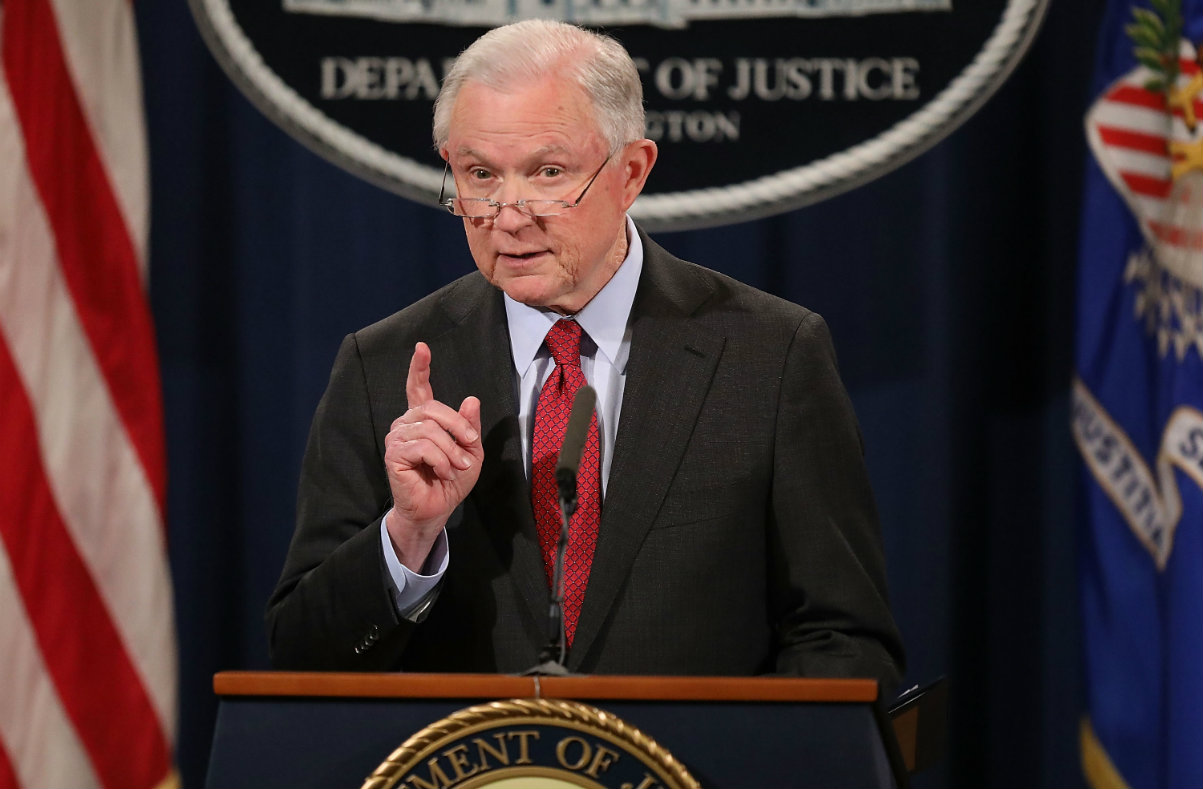 The Trump administration will stop granting asylum to victims of domestic and gang violence. Attorney General Jeff Sessions made the announcement in a decision published Monday. In short, he argued that this alone likely cannot serve as the basis of a successful application before immigration courts.
"Generally, claims by aliens pertaining to domestic violence or gang violence perpetrated by non-governmental actors will not qualify for asylum," he wrote. "While I do not decide that violence inflicted by non-governmental actors may never serve as the basis for an asylum or withholding application based on membership in a particular social group, in practice such claims are unlikely to satisfy the statutory grounds for proving group persecution that the government is unable or unwilling to address. The mere fact that a country may have problems effectively policing certain crimes—such as domestic violence or gang violence—or that certain populations are more likely to be victims of crime, cannot itself establish an asylum claim."
This overruled a 2014 decision by the Board of Immigration Appeals. He can do that, by the way.
"This case is part of a series of cases, the AG gave to himself to decide, often with no notice and in odd procedural circumstances," New York Law School Professor Lenni Benson wrote in an email to Law&Crime. As head of the Department of Justice, Sessions runs the immigration courts and their appellate body, the Board of Immigration Appeals, she said. "So a single administrative officer can reverse the decisions of the expert body. The reversal not only must be followed by all the trial judges (immigration judges are civil servants and obligated to follow the rulings of the head of the agency) but it is the guiding authority for Customs and Border Protection and for the Asylum Officers.  So his ruling affects the divisions of the DHS even though he is not the head of the DHS."
She added, "This case doesn't stand alone but is part of a series of cases where he is truncating procedural rights."
This is another step in the Trump administration's increasingly hardline approach to immigration law. Not that Team Obama was soft-handed or anything, but current White House occupants have taken an even more stiff approach to noncitizens. This involves a ramp-up in arresting noncriminal undocumented immigrants, and a policy of prosecuting all people who allegedly broke the law by crossing the border. Even if it means separating parents from their children.
Sessions explicit reason behind the changes is that it will protect people by discouraging dangerous treks across the border.
"The world will know what our rules are, and great numbers will no longer undertake this dangerous journey," he said in a prepared speech Monday before the Executive Office for Immigration Review Legal Training Program. "The number of illegal aliens and the number of baseless claims will fall. A virtuous cycle will be created, rather than a vicious cycle of expanding illegality."
To be sure, that's not how critics of the move see it.
Breaking: Jeff Sessions sets standards for humanitarianism back to when people were treated as property. https://t.co/ypgb5FRTpF

— Jess Phoenix (@jessphoenix2018) June 11, 2018
Attorney General Sessions has made the cruel and radical decision to stop granting asylum to survivors of domestic and gang violence who are often literally running for their lives. https://t.co/xhxTo1841j

— Raja Krishnamoorthi (@CongressmanRaja) June 11, 2018
And asylum seekers will likely still make domestic violence and gang violence claims in court. Here's immigration law attorney Prerna Lal:
Asylum seekers who get denied asylum due to Matter of A-B- would need to take it up the chain to the Board, and then to a Circuit Courts. There are several federal circuits that already recognize domestic violence claims and Sessions' decision doesn't impact that.

— Prerna P. Lal, Esq. (@prernaplal) June 11, 2018
"For asylum seekers with pending claims, it may make sense to seek continuances due to change in law and even claim reliance interest under the APA [Administrative Procedure Act]," she wrote. "They relied on old law to file asylum and now that it has suddenly been rescinded, they should be given the benefit of old law."
[Image via Chip Somodevilla/Getty Images]
Have a tip we should know? [email protected]