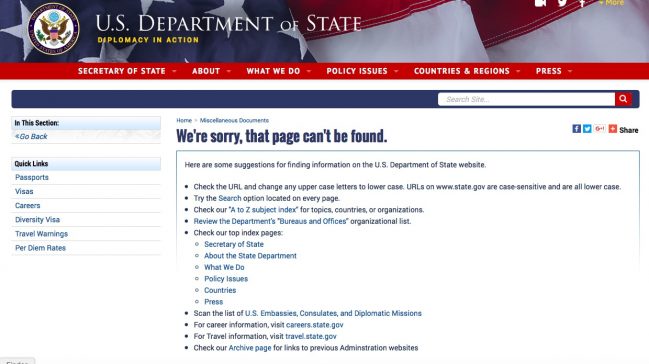 In the 1950s and 60s, the U.S. State Department was one of many organizations that actively discriminated against employees and job applicants based on sexual orientation. The government refused to hire applicants they thought were gay, and people already working there often resigned due to discrimination. This trend was known as the "Lavender Scare," the term being play on the Communist "Red Scare" based on the phrase "lavender lads," used by Senator Everett Dirksen to refer to gay men in the early 50s. Earlier this month, before the Obama administration left office, then-Secretary of State John Kerry posted an apology for the Lavender Scare on the Department's website. "These actions were wrong then," Kerry said, "just as they would be wrong today." As of Tuesday, that apology is now gone.
The Human Rights Campaign reacted strongly to the Trump administration's decision to delete Kerry's statement (an archive of which can be found here from a website that captures old web pages). HRC President Chad Griffin said in a statement:
With each passing hour, the Trump administration continues to show the extent of their contempt for the enormous progress made over the past eight years. … It is outrageous that the new administration would attempt to erase from the record this historic apology for witch hunts that destroyed the lives of innocent Americans.
HRC noted that in addition to removing the apology, the State Department's website also dropped content related to LGBT Pride Month, and the Department's Special Envoy for the Human Rights of LGBT Persons, and that the White House website eliminated references to LGBT people and issues.
At Monday's White House press briefing, it was also brought up that the Spanish version of whitehouse.gov had been taken down. Press Secretary Sean Spicer explained at the time that the administration is in the process of redoing its web content, and that this feature would return. We've reached out to the State Department for further comment.
In a statement to LawNewz.com, a State Department representative said:
Administration-specific content that was posted on state.gov during President Obama's tenure was archived. Content that remains on state.gov includes, but is not limited to, the functions and operations of the Department information; Congressionally-mandated reports, e.g., TIP, HRR, and IRF; and collections of official documents, e.g., legal treaties and air transport agreements.  New items created by the Trump Administration will be posted to state.gov
The content from the previous administration is archived here.
This article has been updated with the State Department's statement.
Have a tip we should know? [email protected]